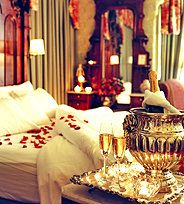 Madrona Manor, in hip Healdsburg, is the perfect place to spend some quality time with your bffs
Healsburg, CA (PRWEB) October 18, 2011
Madrona Manor, one of the most beloved hotels in Wine Country, is offering a tempting treat just for the ladies: the Girls Getaway Package. The package for two includes two nights in the luxury Sonoma hotel, a four-course dinner with wine pairings, two one-hour massages, expert concierge service to plan wine tours, and a full buffet breakfast each morning.
The package was recently featured in Travel and Leisure, which raved, "Madrona Manor, in hip Healdsburg, is the perfect place to spend some quality time with your bffs: the vineyards are close by, spa treatments can be taken in your room, and right on-site is a Michelin-starred restaurant, ready to take your order."
Almost as soon as they arrive at Madrona Manor, ladies will feel their care and stress melting away. They may choose to settle right in to one of the Sonoma Inn's deluxe rooms with two queen beds and fireplace, or they may decide to stroll through the eight-acre grounds, or go to nearby Healdsburg for some shopping.
Best friends will always savor the memory of the four-course dinner at the Michelin Star-rated Sonoma restaurant. The elegant, candle-lit meal is carefully prepared by celebrated chef Jesse Mallgren, using the finest seasonal and local ingredients, and paired with fine wines from the restaurant's award-winning wine list.
In the morning, after an extensive complimentary breakfast buffet, guests can consult with the concierge to find the right wine tour to suit their style. Madrona Manor is located in the heart of Sonoma's Dry Creek Valley, famous for its Zinfandels, and is an easy drive to nearby Napa Valley.
Wine Country also has a number of other attractions; guests may want to visit the rugged California coast, state parks with towering redwoods, natural hot springs, artist studios, or historic monuments. The friendly staff will help plan the perfect girls' day out, from a surfing adventure to some antiquing, and everything in between.
At the end of their adventure, guests will be ready for a massage when they get back to Madrona Manor. In-room massages are offered by experienced massage therapists who specialize in many styles, including sports, Swedish, therapeutic and more.
At the end of the day, guests will sink into their soft pillow-top mattresses, nestled under feather-soft linens, and enjoy another night of complete relaxation. After another hearty breakfast, the friends will head home, feeling refreshed and rejuvenated.
The all-inclusive package for two is offered from November 1st, 2011 through May 31st, 2012. The rate is $900 on Sunday through Thursday or $1,100 on Friday and Saturday.
For more information about Madrona Manor, call them at (866) 319-8212 or visit them on the web at http://www.madronamanor.com.
About Madrona Manor
Nestled in the hills above the Dry Creek Valley of Sonoma County, Madrona Manor is an exceptionally lovely Victorian estate surrounded by eight acres of wooded and landscaped grounds. The Mansion, built in 1881, has been a destination for discerning guests seeking a stay in the gracious wine country of northern California since 1981. Whether visitors come to get away from it all, or to reconnect with friends and loved ones, Madrona Manor is one of the finest locations for an out-of-town weekend, party, executive retreat, or wedding in Napa or Sonoma Counties.
Visitors are invited to enjoy a romantic meal in the acclaimed Sonoma restaurant, engage in quiet conversation with drinks on the veranda, or relax by a cozy fire in the winter or the pool in the summer. At the end of the day, a peaceful night's stay awaits guests staying in any of the elegant rooms.
# # #