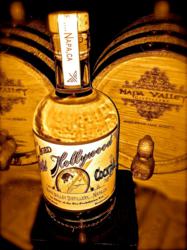 One Sip Will Take You Back to Late Suppers at the Brown Derby on Hollywood and Vine
Napa, California (PRWEB) January 04, 2013
Napa Valley Distillery, the award-winning maker of rare and unique craft spirits, has launched its very first crowd funding campaign on Indiegogo.com.
Access the campaign here.
The maker of Napa Vodka Vintage Reserve, named one of Wine Enthusiasts Top 50 Spirits, hopes to bring its Pre-Prohibition era Barrel-Aged Cocktails to market through the innovative crowd funding platform available on Indiegogo.com.
10% of all funds raised through the campaign will be donated to Susan G. Komen for the Cure.
BARREL AGED COCKTAILS
The origins of Barrel-Aged cocktail making dates back to the early 1800's. Due to the time and the tedious process to craft them, the practice eventually became a lost part of the American cocktail culture. Today, a few brave mixologists have started to revive this lost art form.
The micro-distillery's founder, Arthur Hartunian says, "We're not just recreating the classic cocktails by using the same ingredients, we're reviving the exact process of manufacture as well. Barrel-Aging gives the cocktail a flavor and texture that no amount of shaking or stirring can. It's really how cocktails were made and enjoyed nearly 200 years ago."
Napa Valley Distillery will be releasing a total of 5 different Barrel-Aged cocktails, some of which are being bottled for the first time ever. True cocktail connoisseurs can choose from such classics as the Mint Julep, Manhattan, Negroni and East India Cocktails as well as the company's own Old Hollywood Cocktail, created exclusively for the series.
"The Old Hollywood's base is made from our own premium Gin, but the rest is Hollywood confidential and very hush hush. You'll have to get a bottle to find out. But, just one sip will take you back to late suppers at the Brown Derby on Hollywood and Vine," jokes Hartunian.
Napa Valley Distillery handcrafts each cocktail in 10-gallon batches using their own award-winning craft spirits, cocktail bitters and all-natural ingredients. The mixture is allowed to age in mini oak barrels - the same used for premium whiskey - for up to 10 weeks before bottling. This barrel-aging process allows the ingredients to fully infuse and intensify, while the whole cocktail takes on the complex characteristics of the oak barrel. The end result is a smooth and very elegant cocktail reminisent of an era long gone by.
Following the crowd funding campaign, the bottled cocktails will be available through the company's wholesale/retail distribution network. Products made or blended with spirits of fruit can also be purchased directly through the distillery.
ABOUT CROWD FUNDING AND INDIEGOGO.COM
Indiegogo.com is a crowd funding platform that allows people or businesses from all over the world to raise money for a specific cause or project by creating and launching their own fundraising campaigns.
Project backers pledge money in exchange for exclusive perks or rewards provided by the campaigner.
"Crowdfunding is a terrific option for small companies with great ideas who just don't have the resources available to bring their products to market," says Arthur Hartunian.
For more information contact:
Arthur Hartunian (707) 259-5411