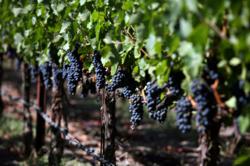 We take our role in implementing sustainability very seriously. It is ingrained in our organizational culture and we're very pleased to be recognized as a leader.
Napa, CA (PRWEB) December 05, 2012
Napa Valley Grapegrowers (NVG) ranks first in Napa Valley's winegrape grower outreach programs, particularly those focused on sustainability, according to a Research Brief published by UC Davis and the Center for Environmental Policy and Behavior (CEPB). The recently published, first time survey – 'Sustainability Programs in the Napa Valley Viticulture Region of California: Winegrape Grower Perceptions and Participation' – presents results from completed, open-ended surveys of 237 winegrape growers in the Napa Valley American Viticulture Area.
Key survey findings:
•62% who participated in sustainability outreach activities reported the most familiarity with NVG's programs, substantially more than other programs
•79% of the respondents think the NVG has improved farm labor well-being
•79% say NVG has reduced environmental risks
•76% believe NVG has improved both winegrape quality and wildlife habitat
•A majority of the growers believe the NVG to be successful at providing some indirect economic benefits such as improving relations between the industry and regulatory agencies and improving consumer perception of the region.
•More than 70% reported attending the NVG's Napa Valley Viticulture Fair. In 2012, more than 2,000 people attended the 22nd annual Fair, beating all previous attendance records.
•70% attended NVG's Wine & Grape Expo 55% participated in NVG's four-part Sustainable Vineyard Practices Workshop
"We're incredibly proud that our 37 years of work has had such a profound, positive impact on Napa Valley," said Jon Ruel, Napa Valley Grapegrowers President; COO, Trefethen Family Vineyards. "We take our role in implementing sustainability very seriously. It is ingrained in our organizational culture and we're very pleased to be recognized as a leader."
NVG produces up to 30 events annually that focus on education – from training sessions in the vineyard to classroom seminars – in both English and Spanish. The NVG has raised almost $400,000 for its unprecedented Farmworker Foundation, which supports the lives of Napa County vineyard workers and their families by providing educational opportunities, advanced training programs, and promoting a safe and healthy working environment. The focus of its education programs ranges from getting certified to drive a forklift to developing leadership skills. In 2012, NVG premiered 'Día de la Familia,' bringing together diverse community organizations to provide one-stop information resources for farmworkers and their families, along with food, fun and music. More than 1500 people attended.
NVG's website is rich in content from industry experts, and the organization regularly provides studies, surveys, and a weekly bulletin highlighting critical updates and news related to best practices in the vineyard and wine industry.
About Napa Valley Grapegrowers
The Napa Valley Grapegrowers is a non-profit trade organization that has played a vital role in strengthening Napa Valley's reputation as a world-class viticultural region for over 37 years. Its mission is to preserve and promote Napa Valley's world-class vineyards. NVG represents over 620 Napa County grapegrowers and associated businesses. For more information, visit http://www.napagrowers.org. and follow NVG on Facebook and Twitter.