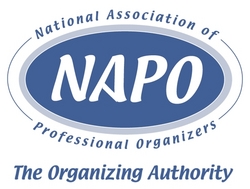 It's All Too Much: An Easy Plan for Living a Richer Life With Less Stuff
Mt. Laurel, NJ (PRWEB) February 20, 2008
Professional organizers know better than to leave career success to chance. They will hit the jackpot by attending the National Association of Professional Organizers (NAPO) 20th Annual Conference and Organizing Exposition in Reno, Nevada, from April 9-12, 2008. This premier organizing event will provide unparalleled educational and networking opportunities for professional organizers and anyone interested in this rapidly-growing field.
The Conference
During this event, attendees will learn from industry experts, share business and organizing strategies, network with colleagues and mentor others in the field.
Peter Walsh, author of the best-selling book, "It's All Too Much: An Easy Plan for Living a Richer Life With Less Stuff", kicks off a winning lineup of speakers, discussing the role of organizers as visionaries for change. NAPO Immediate Past President Barry Izsak will moderate the panel discussion "Be Careful What You Wish For: Lessons Learned Along the Way," featuring organizing experts who "tell all" and share their secrets and surprises to help you create your own path. Humorous and straight-talking Karen McCullough will close the conference with a keynote address on growing your business.
Conference sessions will address career advancement, business marketing, the future of the organizing industry, and a variety of professional organizing topics. Sessions are designed to give participants the knowledge and support needed to enhance their professional organizing careers.
"The Annual Conference is the premier event of its kind, offering something for everyone regardless of their experience," said NAPO President Standolyn Robertson. "I look forward to the conference every year because it helps me connect with colleagues and gain new insight into all aspects of professional organizing and running a successful business."
The Organizing Expo, open April 10-11, will feature the hottest new products and services for home and business organizing, training and technology. Another conference highlight will be the inaugural NAPO Talent Show on April 9, showcasing organizers who can sing, tap dance and even ride a unicycle!
Who Should Attend
The Conference is open to members and non-members, including organizing professionals and anyone interested in learning more about professional organizing or starting an organizing business. Registration is available online.
The Location
The conference will be held at John Ascuaga's Nugget Resort in Reno, Nevada, conveniently located near the Reno/Tahoe Airport and entertainment, shopping, and dining. The hotel offers eight award-winning restaurants, a casino, and nightly headliner entertainment.
About NAPO:
The premier national association dedicated to the field of organizing, the National Association of Professional Organizers (NAPO) is The Organizing Authority®. Formed in 1985, NAPO is dedicated to serving its members through education, networking, industry resources, and promoting the profession to the public. NAPO's mission is to develop, lead, and promote professional organizers and the organizing industry.
Editor's Note: To attend the conference or interview someone, call Alison Dickman at (215) 884-6499.
###