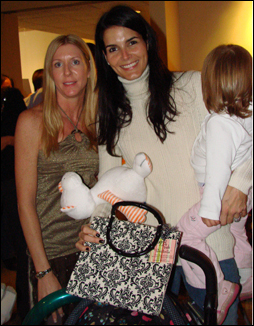 The Nappi Sak makes a statement
Kennett Square, PA (PRWEB) January 18, 2007
The hippest celebrity Moms and Dads flocked to check out the hottest products for their little starlets at baby style expert Jayneoni's celebrity Boom Boom Room in Los Angeles last week.
Suburban Philadelphia-based Suzibella was on hand to unveil its new Nappi Sak, a superchic mini diaper carrier for today's style-conscious moms. Suzibella, fresh on the heels of the success of its unique keepsake boxes, was thrilled to be included on the short list of upscale baby outfitters selected to participate in this super-VIP platform at the Hyatt Century Plaza in LA. They chose this event to unveil the Nappi Sak, a diaper carrier that combines convenience, comfort and the utmost style for fuss-free diaper changes on the go.
The Boom Boom Room is the only Golden Globe gifting suite dedicated exclusively to celebrity tots. Jayneoni, a regular on MTV, VH1's The Fabulous Life of Celebrity Kids, Entertainment Tonight, The Insider, MSNBC Hot List and CNN, is well known as a bonafide kiddie-swag specialist for Hollywood celebrities. Jayneoni's signature Boom Boom Rooms are held at hush-hush Hollywood locations and showcase the must-have baby and children's products of the season.
The stars and their tots that attended the invitation only event included Angie Harmon, Carnie Wilson, Shar Jackson, Angela Bassett, Joely Fisher, Kevin Sorbo, and Dr. 90210's Dr. Li. Li, who brought along husband Bill and darling 8 day old daughter, initially thought the Nappi Sak was a fabulous purse for herself, as did many of the stars. When they realized the Nappi Sak was actually a mini diaper bag, they couldn't get their hands on the bags fast enough. The stylish bamboo handle and superchic fabrics, combined with the functional changing pad, moisture-tight container for diapers and wipes, and convenient fabric pockets for holding essentials like cell phones, keys, and credit cards makes Nappi Sak the perfect accessory for the hip Mom. Marcia Cross, who could not attend due to her required bed rest, even picked up two Nappi Saks for her twins, through her trusted personal shopper who attended the event in her absence.
"It's genius," raved several celebrity Moms, who are now ready to ditch their oversized, cumbersome diaper bags for the compact Nappi Sak.
"There comes a time when you no longer need to carry around all the "stuff" for baby anymore, and you're ready to move to a smaller, more stylish bag to bring with you 'just in case'," comments Suzanne Longacre, Suzibella CEO and creator of the Nappi Sak. "We developed the patent-pending Nappi Sak for that wonderful day when you realize that all you need to bring are a few diapers and wipes."
"The Nappi Sak makes a statement," Longacre added. "It says, 'I can be stylish while making sure I take the best possible care of my baby. We are always ready to pick up and go at any time to go anywhere--from a fun play group to a quick shopping trip to Neiman's. Together we're ready for anything'."
Suzibella
Bringing the highest quality, completely unique, niche products to the high end baby market
For more information, contact Suzanne Longacre at 610-444-0780.
###