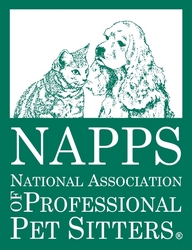 Boise, ID (Vocus) March 25, 2009
With the economy across the country in crisis and numerous layoffs occurring in some of America's largest corporations, more and more budding entrepreneurs are turning to one of the fastest growing industries that promises fun work with pets as well as an opportunity to earn an above average income, while at the same time being your own boss. That industry is pet sitting.
New pet sitters across America are excited not only because of the benefits of the career but also its low start up costs. Additionally, new pet sitters are not alone in their efforts because of the presence of pet sitting member associations such as the National Association of Professional Pet Sitters, NAPPS (http://www.petsitters.org). NAPPS is the only national non-profit organization providing continuing support to its members pet sitting businesses. That free support includes downloadable and necessary business forms, access to insurance educational tools, advertising and promotional resources, mentoring by other already established pet sitters as well as teleconferences dealing with Pet Sitting Basics, industry certification and other benefits.
Monica Leighton, President of NAPPS remarks, "Pet sitting has become one of the fastest growing home businesses in the country. NAPPS receives constant inquiries from potential pet sitters as to how to begin their own pet sitting business. Because NAPPS is the only non-profit professional pet sitting association in America, this puts us in a perfect position to answer those questions fully and meet the needs of the start up pet sitting business through mentoring and other strong association resources all of which are free to our members."
For more information visit http://www.petsitters.org
Contact:
Felicia Lembesis
Phone: 856-439-0324
###