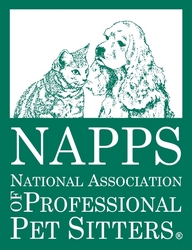 Our mission is to provide education and tools to increase professionalism to new and existing members. We value highly the reputation of our members to provide superb pet sitting services in your local community as well as fostering a strong network of pet parents who know that with a NAPPS member they get the best trained and professional pet sitter available
(Vocus) May 7, 2008
Are you looking for that special job that not only provides additional income but is really fun? Professional pet sitting is that opportunity. The ASPCA and the American Veterinary Association have agreed that the first year cost associated with a new family pet can exceed $1500 for a puppy and $650 for a cat. The AVA figures were determined based on costs for services ranging from spay/neuter fees (and other first year medical costs) to incidental expenditures such as grooming, premium dry food, collars, leases, licenses and pet sitting. With this type of investment in a family pet it seems logical to provide superb medical care from your veterinarian and professional pet sitting when the pet parent is required to be away from home for a period of time. Professional pet sitting is fast becoming one of the most popular home based businesses in the country and here are the reasons.
1. INTERNET TRAINING: For those who have another full time job you can learn the pet sitting industry from A to Z by way of online training. Non-profit associations such as the National Association of Professional Pet Sitters (NAPPS) will soon provide low cost courses to their members leading to certification and recognition as a professional pet sitter. You can study on your own free time.
2. MENTORING: Because you are in a select group of certified professional pet sitters you are never on your own. Advice from other more experienced pet sitters as well as advertising professionals is usually just a phone call away when you are a member of a professional pet sitting organization such as NAPPS and are actively building your business. In addition some associations (such as NAPPS) specifically offer monthly teleconferences (as well as annual conferences) for the pet sitter members to learn new techniques as well as mentor others themselves if they so choose.
3. BUSINESS SERVICES: Some pet sitting associations such as NAPPS (http://www.petsitters.org) offer public relations and advertising consultations without charge, group insurance benefits (including liability insurance packages for your business) advertising aids, free web sites and downloadable customized business forms necessary to operate a successful pet-sitting service. You will be in a community of like minded professionals providing service to America's pet parents.
Candace Labane-Godfrey, President of NAPPS and herself a pet parent says on behalf of her organization of professional pet sitters, "Our mission is to provide education and tools to increase professionalism to new and existing members. We value highly the reputation of our members to provide superb pet sitting services in your local community as well as fostering a strong network of pet parents who know that with a NAPPS member they get the best trained and professional pet sitter available". To learn more about becoming a professional pet sitter visit the NAPPS web site at http://www.petsitters.org.
Contact: Felicia Lembesis
Phone: 856-642-4430
E-mail: flembesis @ ahint.com
# # #