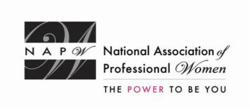 I encourage you to learn about professional development coaching and how can it improve your business.
Garden City, NY (PRWEB) May 18, 2012
The National Association of Professional Women Fairfax County Local Chapter in Northern Virginia hosted their Monthly Professional Networking Event on April 25, 2012.
Chapter President Pamela Sams, Owner of Jackson Sams Financial Services, welcomed all members of NAPW Fairfax County Chapter. There were many new members in attendance as well as regular members. At this meeting, all new members received their NAPW pin and notebook.
Every member had the opportunity to talk about their business or career through a sixty second introduction. Members were asked to use three adjectives that describe themselves.
The Chapter welcomed guest speaker Alison Guinasso of All is One Coaching, a source for personal life coaching and professional leadership coaching. "I encourage you to learn about professional development coaching and how can it improve your business," Alison said.
Alison walked everyone through a few interactive exercises so that each Chapter member could experience what it feels like to be coached.
Ruth Neff of Avery-Hess Realtors and the Fairfax Chapter Membership Chair, talked to the group about the benefits of NAPW membership. Ruth highlighted various tools available to members on the website and through face-to-face networking at the Chapter's meetings.
The Chapter's next lunch meeting is scheduled for Wednesday, May 23rd, 11:30am at Season's 52 in Tyson's Corner.
Members in attendance at April's meeting included:
Pamela Sams, Fairfax County Chapter President, Owner of Jackson Sams Financial Services; Alison Guinasso, All is One Coaching; Sharon McCone, Prosigo Executive Search and Career Advancement Services; Susan Woodward Notkins, AIA, Susan Woodward Notkins Architects, PC; Carole Franques Tehranchi, A La Carte Wellness, LLC; Martie Stabelfeldt, Healthways; Denise Ferrari, Healthways; Deb DePorter, Healthways; Ruth Neff, Avery-Hess Realtors; Rosemary McDowell, Rosemary McDowell International; Peggy S. Arthur, HealthCare Access LLC; Abigail Kuo, First Financial Group; Linda M. Janulis; Melissa M. Davidson, Unlocking Potential, LLC; Bev Barker, Insights Marketing News; Julie Wing, LMI; Diane Zona, Uniglobal Pension Planning, Inc.; Rhonda Miller, Matsen and Miller; Katherine Ferguson, WiSC Enterprises, LLC; Deborah A. Gillam-Kelley; Deborah Parker, DPJ Training Group; Edee Detwiler, Apple Spice Junction; Lori Gray, Executary Virtual Solutions and Janet Ford, Leadership with Purpose and Passion.
The National Association of Professional Women (NAPW) is the largest and most recognized network of female professionals. NAPW provides a forum where women can interact, exchange ideas, educate, network, and empower. NAPW Local Chapters allow members to maximize their experience through meetings, networking opportunities, and professional events.
For additional information regarding the NAPW Fairfax County Local Chapter and/or NAPW, please visit http://www.napw.com.