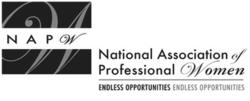 June's meeting was informative, and provided an opportunity to network and meet many incredible, inspiring, intelligent women...
Garden City, NY (PRWEB) July 02, 2011
The National Association of Professional Women Los Angeles Chapter held its June 2011 monthly breakfast meeting last Wednesday at Factors Deli in Beverly Hills.
Ruth Garcia-Corrales, Advertising & Marketing Manager for La Curacao and former Consul General of Costa Rica, took over the reigns as President of the Los Angeles Chapter of NAPW. With new energy and fresh ideas, the Los Angeles Chapter is growing in numbers with each new meeting.
Ruth welcomed all of the newcomers to the June meeting. She also reminded everyone of the L.A. Chapter's Mission Statement that was developed and finalized by the core group of members during the chapter's first year.
The NAPW L.A. Chapter seeks to enhance, develop and strengthen professional women by providing them with a forum for integration of thoughts, experiences and new ideas. With the intellectual capital, contacts and resources we have within our group, we will mentor each other, celebrate successes, and aid other women in pursuit of their dreams and goals.
"June's meeting was informative, and provided an opportunity to network and meet many incredible, inspiring, intelligent women," said Ruth Garcia-Corrales. "Our theme was exploring 'How the Brain Works to Become More Productive' and we proudly featured three of our distinguished members."
Dr. Esther Hess spoke on the topic. Dr. Hess is a developmental psychologist and Executive Director of the Center for the Developing Mind, a multi-disciplinary treatment facility for children, adolescents & their families, specializing in autism, Asperger's syndrome and selective mutism. Her website is http://www.centerforthedevelopingmind.com.
Ruth Klein also spoke at the meeting. She is the owner of The Marketing/Time Source, specializing in branding and marketing individual or company identities. She is a respected author, serves as a productivity coach, and is completing her second Masters degree. Ruth's website is http://www.ruthklein.com.
The last speaker was Dr. Mary Fallie, a forensic psychologist who conducts psychological evaluations and screenings. She can be reached at mmf1st590(at)cs(dot)com. Dr. Klein moderated the panel, and each speaker presented interesting and helpful information and ideas on how people can optimize their brain's power & potential.
Also in attendance were: Cat Lambertini, a financial advisor with Morgan Stanley Smith Barney in Beverly Hills. Her website is http://www.morganstanley.com;
Linda Gonzalez, Director of Administration for Triumph Management Company in Beverly Hills. She is a 23 year member of the National Notary Association, a Certified and Background Screened Loan Signing Agent, bi-lingual English/Spanish and a traveling notary. Linda can be reached at lindaegonzalez(at)hotmail(dot)com;
Catherine Minervini, Founder and Principal for Green Owl Studio, which is a strategic marketing consultant firm dedicated to the design industry. Check out her website at http://greenowlstudio.com;
Amanda Cushman, a chef and culinary instructor specializing in healthy, ethnic foods from around the world. Check out her website at http://www.amandacooks.com;
Camille Perry is the Human Resources Manager for Joie de Vivre Hospitality. Her company's principle products and services include hotels, restaurants and spas. Camille can be reached at cperry(at)jdvhospitality(dot)com;
Andrea James, President of AR James Productions. Her company creates & produces original commercials for businesses & communities at large. She can be reached at arjames52(at)hotmail(dot)com;
Petra Petry, long term care financing specialist. Petra is President of the local Orange County Chapter and attended the Los Angeles meeting at a visitor. Petra can be reached at Petra.petry(at)ltcfp(dot)net;
Victoria Drake is an independent life insurance agent for the State of California. She is sponsored through PHP-People Helping People, the fastest growing financial marketing company in the industry today. She can be reached at msvictoriadrake(at)gmail(dot)com;
Jaimee Wellerstein, Esq. is a Senior Litigation Associate at Bradley & Gmelich in Glendale, California. She earned her Bachelor degree from San Diego State University in 1996 and Juris Doctorate from Loyola Law School in 2000. Jaimee can be reached at jwellerstein(at)bglawyers(dot)com;
Jamie Jackson is a grant writer and owner of Soap Art by JXN. She offers grant writing services to social service organizations and sells hand crafted soap & bath products through her company. She can be reached at jamiejacks(at)hotmail(dot)com;
Daisy Marks is the Assistant Director of the Westside Regional Center. She received her Bachelor degree in psychology at Chatham College, Pittsburgh, PA and an Associate Degree in Early Childhood Education at Hunter College, New York, NY. Daisy can be reached at daisy(at)westsiderc(dot)org;
Judy Ferber is a skin care specialist. Her website is http://www.judyferberskincare.com;
And, Jennifer Fralick is a health & fitness consultant. Her website is jennifer(at)fralickconsulting.com.
The National Association of Professional Women is an exclusive network for professional women to connect, learn and inspire. NAPW members enjoy a wealth of resources and services dedicated to the enhancement, empowerment and promotion of their careers. http://www.napw.com
For more information on the local Los Angeles chapter and/or [NAPW, contact Ruth Garcia-Corrales at 213.639.2096, email ruthg(at)lacuracao(dot)com or visit http://www.napw.com.
Follow us on Facebook and Twitter.
###