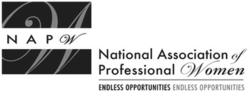 The ladies truly enjoy this activity, as it makes it so much easier for those that have trouble with public speaking...
Garden City, NY (PRWEB) July 22, 2011
The Bakersfield Local Chapter of NAPW hosted several guest speakers at their meetings in June and July.
Guest speakers at the June 10th meeting included VP Yessica Avancena of Enviro Cleaners and Karen Bonanno of Snelling Staffing. On July 8th, the chapter welcomed guest speaker Dr. Siniva Kaneen, who shared her insight and expertise on women's health issues.
Paris Davis, of the Bakersfield Californian, substituted for Local Chapter President Sarah Ketchum for the June meeting. Paris opened the meeting agenda at 12:20pm by reminding the group that the Bi-monthly Networking Social was to be held on June 30th at chapter member Julie Ashford's home from 5:30-7:30pm.
Paris reminded everyone to take advantage of the "comment cards" found on the NAPW Networking table. She mentioned that July will be "Bring-a-Friend" month, and there would be prizes for the chapter member who brings the most guests.
Each member prepared a 30 second commercial for the meeting and presented their name, company and services offered. Following individual commercials, the chapter opened the floor to the guest speakers. Yessica Avancena, owner of Enviro Cleaners, spoke about Environmentally Conscious dry cleaning. Karen Bonanno shared information about her business, Snelling Staffing. She assists clients in finding personally fulfilling employment. The June meeting was closed at 1:20pm.
Sarah Ketchum began the July 8th meeting with various announcements, including a thank you to Julie Ashford for hosting the Bi-monthly Networking Social in June. The social was a great success and many chapter members attended. Sarah announced the next chapter Bi-monthly Networking Social was to be held in the month of August at the home of member Karis Sumners of California Canyon Insurance. The chapter also welcomed two new guests to the July meeting who responded to an ad placed in the Bakersfield Californian.
The chapter did a 'speed-networking' exercise, which is frequently requested by members. "The ladies truly enjoy this activity, as it makes it so much easier for those that have trouble with public speaking," Sarah said.
Guest speaker, Siniva Kaneed MD, FACOG from Advanced Women's Health, spoke about current health issues facing women. In addition to common medical concerns, she even shared about advances in plastic and cosmetic surgery.
The chapter scheduled a board meeting for July 20th at Sarah Ketchum's office and the next chapter meeting for August 12th. The July 8th meeting was closed at 1:28pm.
For additional information regarding the Bakersfield Local Chapter and/or NAPW, please visit http://www.napw.com.
Follow us on Facebook and Twitter.
###