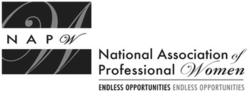 I joined to have a group of women from whom to learn...
Garden City, NY (PRWEB) November 30, 2011
The November 16, 2011 meeting of the NAPW Baltimore Chapter was about making plans for the future, getting to know the members and learning why they joined NAPW. The Chapter discussed future meetings and opportunities to promote their businesses.
Jennifer Garcia, Member Outreach Chair, led the meeting in Chapter President Janet Borowski's absence. Since the meeting, Chapter President Janet Borowski announced her stepping down from her position. Jennifer Garcia has stepped in to become the new Chapter President. Many thanks were extended to Janet for all her hard work in getting the chapter started.
At the November 16 meeting, the chapter had a few returning members in attendance, Linda Mathieu, Tamera Swan-Mason and Jennifer Garcia. Most were first-timers and recently joined members. Although most did not know each other, discussions revealed common goals and a shared vision for the direction of our chapter.
It was decided that starting January, 2012, our meetings will be held on the third Wednesday of the month at 5:30. The location will vary from month to month but will be held in the Pikesville/Owings Mill area of Baltimore because this is a good mid-way distance point so that all members can attend. The last meeting of 2011, however, will be a holiday lunch on December 21 at noon at a restaurant in downtown Baltimore.
"Thank you to Linda Mathieu and Kay Kravchuck for helping to organize the holiday lunch," said Jennifer.
The members would like to encourage other professional women to join NAPW, so it was agreed that the chapter would invite visitors to meetings. According to NAPW policy, a visitor interested in joining can attend two meetings, after which they will have to become members to attend further.
Nayo Carter suggested short presentations about each member's businesses to better promote businesses at meetings. After some discussion, it was decided that the chapter will give her suggestion a try. As of January 2012, one member will be given 10-15 minutes to promote their business at each meeting. Members are encouraged to make their presentation informational or motivational to the members. They've scheduled January to April and at the April meeting they will decide whether or not to continue to have these presentations. The presentations are as follows:
January: Tax information to prepare for tax season by Nayo Carter, First Step Accounting
February: Following up on your New Year's Resolutions by Marilyn Thorpe, Business & Life Coach with NexPhase Transitions
March: Solo Te tea parties by Sabrina Owens, Solo Te
April: Help with the home-buying process by Ann Kress, Keller Williams Select Realtors
"We look forward to the information our members will provide us," Jennifer said.
Each of the members were asked to introduce themselves, discuss their role as a professional woman, share why they joined NAPW and what they hope the chapter can offer them.
Tamera Swan-Mason is President and CEO of White Swan Inc. Her company's principal products are Wild Rose Hand & Body Lotion, Bath & Shower Gel and Soothing Bath Salts. Tamera is also an ordained New Thought Minister. She is a contributing book author, having written six articles for 6 books on women's issues. Tamera is a member of the Professional Woman's Network. She was called by NAPW to become a member.
"I joined to have a group of women from whom to learn," Tamera said. This is the second meeting of the NAPW Baltimore chapter that she has attended. Tamera can be reached by visiting http://www.whiteswanproducts.com/.
Nayo Carter is CEO of First Step Accounting. Nayo is an accountant with experience in taxes and bookkeeping. She is currently looking for office space to expand her business. Nayo joined NAPW last year looking to network in order to help her build her network of women to reach out to, refer to, and help her through the rough patches in this tough economy. This is the first meeting of the NAPW Baltimore chapter that she has attended. Reach Navo by visiting http://www.1ststepaccounting.com/.
Ann Kress is a realtor with Keller Williams Select Realtors. Ann is a sports nut and loves to dance. Ann is a new NAPW member and this was her first NAPW Baltimore chapter meeting. She wants to meet new people, connect with fellow professional women and explore the social aspect of the group. Contact Ann by visiting http://www.kw.com/kw/agent/annkress.
Linda Mathieu is a licensed Certified Public Accountant, working in the field of retirement planning for over 30 years. Linda walked the Susan G. Komen Race for the Cure for breast cancer this year. She has been an NAPW member for 6 months and has attended 3 NAPW Baltimore chapter meetings. Linda joined NAPW group for the networking. Linda is the Social Committee Chair for the chapter helping to organize the holiday party this year. Visit her at http://www.tefrainc.com/.
Marilyn Thorpe is a Business & Life Coach with NexPhase Transitions, LLC working with micro businesses, start-ups and entrepreneurs who are stuck or have plateaued to help and teach them how to transition smoothly and successfully to entrepreneurship and realize profits within their first year. The company is a professional service company offering coaching, consulting and training services. She loves travelling, reading, and playing tennis. Marilyn joined NAPW recently and this is her first NAPW Baltimore chapter meeting. She is interested in meeting people and sharing ideas. Visit her at http://www.coachnexphase.com/.
Elder Jean Bonds is President/Founder of Woman to Woman International Ministries, which specializes in locating housing. She is the founder of a dance/drama company and is currently looking for a location for it. Jean is also a Mary Kay Representative. She is a member of the Sisters to Sisters network. She joined NAPW one year ago and this is her first NAPW Baltimore chapter meeting.
Sabrina Owens is the President of Heavenly Sweepers Cleaning Service, a commercial cleaning company. Sabrina recently started a business, Solo Te, organizing tea party events. She is also a Pastor and as such is currently involved with a local mentor program for youth. Her missionary work also helps the homeless and elderly. Her hobbies and interests include knitting, sewing and travel. She has been a member for 2 years. This is her first NAPW Baltimore chapter meeting. She wants to network and train others to be self-sufficient entrepreneurs.
Jennifer Garcia is Owner and President of Logicreative, a marketing and design business specializing in brand marketing and social media strategy. Jennifer has been invited to speak to various business organizations on Social Media, Web Marketing, Networking, Branding, and Entrepreneurship. Jennifer gave a brief talk on Social Media at the September meeting of the NAPW Baltimore chapter. Jennifer has been a member of NAPW for 4 years and has attended 2 NAPW Baltimore Chapter meetings. As the Member Outreach Chair, she created Facebook and Linkedin groups for the chapter to keep members connected in between meetings. Soon after the meeting, she became the new Chapter President. Visit Jennifer at http://logicreative.com.
Richelle Rodgers is a Charities Resource Consultant and Administrator with a company called ACTS which stands for (American Charities Telesis Services), a global marketing and sales "faith based" company which provides funding for non-profits and charitable organizations. They are currently hiring CRC's (Charity Resource Consultants), contact Richelle if you are interested. Richelle also has a franchise consulting business. Previously, she owned her own business offering management consulting to museums. She likes to network and has attended Networking your Biz events. She joined NAPW recently and this is her first NAPW Baltimore chapter meeting. Visit Richelle at http://rrodgers.actslink.net.
If you're already an NAPW member in Maryland, join the NAPW Baltimore Chapter - http://www.napw.com/chapter/99/baltimore/
For additional information regarding the NAPW Baltimore Local Chapter and/or NAPW, please visit http://www.napw.com. Or connect with us on Facebook http://facebook.com/groups/NAPWBaltimore and Linkedin http://linkd.in/ukQsFv.
Follow NAPW on Facebook and Twitter.
# # #