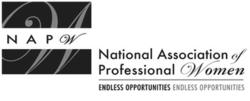 We're inviting members to speak to give our businesses more exposure," Jennifer said. "Members are encouraged to make their presentation informational or motivational to other members as well.
Garden City, NY (PRWEB) December 23, 2011
The NAPW Baltimore Local Chapter met for a holiday celebration and professional networking meeting this December. The December 21, 2011 meeting of the Chapter was a holiday luncheon, a chance to celebrate the chapter's growth and for the members to enjoy each other's company.
The chapter extended a thank you to all those who helped toward planning the holiday luncheon: the new Chapter President Jennifer Garcia, outgoing Chapter President Janet Borowski, Special Events Coordinator Linda Mathieu, and Kay Kravchuck. "Thank you to NAPW national for sending little goodie items for our members," said Jennifer.
The holiday luncheon inaugurated the new Chapter President, Jennifer Garcia. Jennifer expressed her eagerness to grow the chapter and make sure that it is a great benefit to its members. She is already generating ideas for 2012.
As of January, 2012, meetings will be held on the third Wednesday of the month at 5:30pm, and the location will vary from month to month. Also, as of January 2012, one member will give a short presentation about their business at each meeting. "We're inviting members to speak to give our businesses more exposure," Jennifer said. "Members are encouraged to make their presentation informational or motivational to other members as well."
The first meeting of the new year will be January 18, 2012 at 5:30pm at the Mari Luna Latin Grille - 1010 Reisterstown Road Pikesville, MD 21208. The presentation for this meeting will be "Tax Information to Prepare for Tax Season" by Nayo Carter of First Step Accounting.
Each of the members was asked to introduce themselves and discuss their role as a professional woman.
Marilyn Thorpe is a Business & Life Coach with NexPhase Transitions, LLC working with micro businesses, start-ups, and entrepreneurs who are stuck or have reached a plateau to help and teach them how to transition smoothly and successfully to entrepreneurship and realize profits within their first year. Marilyn has developed a new program "Having the Mindset of an Entrepreneur", guiding individuals through the process of becoming an entrepreneur. Visit http://www.coachnexphase.com/ for more information.
Ann Kress is a residential realtor with Keller Williams Select Realtors. Ann helps buyers and sellers through the process of buying or selling homes. Ann's scope is five counties in Maryland and Baltimore city.
Nayo Carter is the CEO of First Step Accounting. Nayo is an accountant with experience in taxes and bookkeeping. Nayo offers her clients virtual accounting services through a cloud-based accounting system. In addition, she helps multi-level marketers manage their finances easily and inexpensively.
Linda Mathieu is a licensed Certified Public Accountant, working in the field of retirement planning for over thirty years. Linda designs and administers retirement plans helping her clients avoid tax liabilities. Linda is also a representative for Melaleuca, a green company offering green home cleaning products, vitamins, and more.
Jennifer Garcia is the Owner and President of Logicreative, a marketing and design business specializing in brand marketing and social media strategy. Logicreative offers social media management services, helping busy entrepreneurs maintain an ongoing social media presence. Jennifer is also President of Custom Chocolate Image which specializes in placing images on chocolate.
Martie Pineda was invited by Chapter President Jennifer Garcia as a guest to the meeting. Martie is an independent distributor of Univera which offers rejuvenating and regenerating nutritional products. Univera's products help increase energy, relieve stress, and improve mental clarity. The company has 177 patents. Their product Xtra is a juice filled with antioxidants that increases your energy. In addition, Martie is a voice-over actress and model.
Professional woman in the Maryland area, are encouraged to join NAPW and attend the Baltimore Chapter's meetings. Visit http://www.napw.com/.
Follow NAPW on Facebook and Twitter.
###