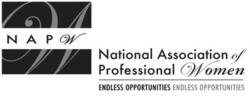 I am looking forward to growing my company, as well as my professional network, through NAPW...
Garden City, NY (PRWEB) October 25, 2011
The Boulder NAPW Chapter Launch Party took place at Bean and Berry, McCaslin Blvd, Louisville, CO on October 13, 2011 where they enjoyed coffee and wine. Bean and Berry is a place where you can find a morning cup of coffee, an evening glass of wine or a place to gather with friends.
Erin Bush welcomed everyone and the networking began. Once everyone arrived, the meeting began with Introductions.
Members present for the meeting:
Erin Bush, MBA, Sales Support for Comstor. She is currently studying for her ISSA Personal Training Certification and hopes to start her own business by November 1 of this year. She loves to inspire and help people change their perception and lifestyle through encouragement and motivation. She enjoys bodybuilding and competing in Figure Shows. She is currently training and preparing for her fourth show which will be next June. She is excited about the many opportunities that NAPW offers as well as beginning the Boulder NAPW Chapter.
Whitney Carlson, Owner and Chiropractor at Carlson Family Chiropractic, P.C. She is working towards her C.A.C.C.P.; a certification specializing her in prenatal and pediatric care adjusting from the International Chiropractic Pediatric Association (ICPA). Her chiropractic philosophy is based on the vitalistic principle that our bodies have an innate intelligence to heal themselves as long as there is no interference in the system. As a chiropractor, she finds and removes the interference in the body (subluxation) with a low force, high amplitude adjustment to allow your body to heal from the inside out.
"I am looking forward to meeting more women to be resources, referral sources and friends in the future," Whitney said.
Suzanne Kohlmann, Benefits & Payroll Manager for the City of Boulder. She manages 5 employees. Her position is emerging leadership within the organization. She is a wife and the mother of 2 small children. Suzanne enjoys reading, walking, workouts, parenting, date nights, and her career.
Paige Lilenfeld, Independent Fashion Consultant for Cabi. She helps women dress professionally. Her company's principle products and services include fashion sales and home parties. Her expertise is creating professional wardrobes. Her interests include cooking, relaxing, and spending time outdoors. She just moved from Michigan here with her husband and children.
"I am looking forward to meeting women and fostering both professional and personal friendships through NAPW," Paige said.
Susan Swern, is the Founder and an Integrative Health Coach for Second Nature Integrative Health. Her company's principle products and services include health and wellness. She has expertise in health and life coaching. She enjoys walking her talk and helping people live a happier and healthier life.
Laura Edwards, Consultant and enjoys working with clients to achieve financial success and seeing people achieve their goals. She is looking forward to meeting women and opening the doors to Networking Opportunities.
Tori Wedan, Owner of Educated Minds. Her company's principle products and services include marketing of continuing education classes for real estate. Her expertise is customer service. Her hobbies and special interests are movies, exercise, reading and her three boys.
"I am looking forward to growing my company, as well as my professional network, through NAPW," Tori said.
Erin Bush gave NAPW welcome bags that carried NAPW notepads and pins to all attending Members. She invited members to communicate with one another and to check the Boulder Chapter Page for all upcoming meetings, events and announcements at: http://www.napw.com/chapter/131/
Suggestions for upcoming meeting/events format were discussed. Suggestions included small social events such as breakfast and happy hour. The ladies discussed having guest speaker and utilizing the expertise within the group first and then expanding to outside sources. Other formats for meetings included round table discussions as well as a conference setting. The group also wants to use the end of the meeting for any upcoming events and announcements which will also be posted on the Boulder Chapter page.
The Boulder Chapter Meetings are posted on the Boulder Chapter page of the NAPW site for future reference as follows: November 10 and December 8 - meetings are held at 5:30 PM at Bean and Berry. Any other location suggestions are welcomed.
For additional information regarding the NAPW Boulder Local Chapter and/or [NAPW please visit http://www.napw.com.
Follow NAPW on Facebook and Twitter.
###