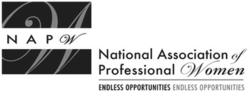 We all had a great time and are anticipating the next event.
Garden City, NY (PRWEB) October 11, 2011
NAPW Columbus Local Chapter co-hosted a networking dinner event in place of the monthly chapter meeting in September. The event was held at the beautiful LaScala Restaurant located at 4199 W. Dublin Granville Road, Columbus, OH. The LaScala Restaurant staff was excellent and dinner was delicious!
Guest and members mingled and networked from 5:30pm to 6:00pm. Marketing tables were available with flyers, brochures, and business cards. My Studio 23 owner Jenni Martini's stunning pictorial display was included.
While seated and enjoying scrumptious salads, each attendee gave a brief introduction about their business, services or organization. Dinner followed at 6:00pm and conversations and networking continued until 8:00pm.
President Gail Goldman and co-host Linda Kohl drew tickets for door prizes made available by the attendees who were also the donors. Donors received recognition for the prizes donated as winners were announced and attendees accepted their prizes. Prizes included a live fall centerpiece donated by member Linda Kohl of Kohl Consulting, an autographed copy of guest author Natalie Grayson's new book, Single Sisters Setting Boundaries, picture frames from Natasha Borders, member and owner of Bart & Gabriel Pet Sitting, LLC, two 8X10 photograph sessions from Jenni Martini, owner of My Studio 23 Photography; a strategic online business consultation and social networking design from Amanda Helber, President, Pemberley, LLC and a beautiful scented & fragrance body and bath gift set from guest and boutique owner Macia Spence.
Special guests in attendance were Natalie Grayson, author of Single Sisters Setting Boundaries, Patricia Beavers, Casey Borders, Kevin Duchon, Kara Jenkins, Kathy Pinkston, Macia Spence, and Litisia Solomon.
NAPW Columbus Chapter members in attendance were Linda Kohl, co-host and President of Kohl Consulting, Gail Goldman, President, LaVonia Smith, Vice President, Natasha Borders, Social/Networking Committee Chair, Jenni Martini, Historian/Photographer, Roseann Duchon, Founder of Highland West Players, Amanda Helber, President, Pemberley, LLC, Kimberly Renee Smith, President, Launch, LLC; and Sonya Tyler, Founder of Tailor-Made Training Solutions, LLC.
Everyone had a great time. "We all had a great time and are anticipating the next event," said Gail Goldman, President.
The network dinner event adjourned at 9:00pm. President Gail Goldman expressed a heartfelt thank you to all chapter members who made this a successful event!
The next Columbus monthly chapter meeting is scheduled for Thursday, October 20, 2011 from 6:00pm to 8:00pm located at Safelite Autoglass, 2400 Farmers Drive, Columbus, OH 43235. Sonya Tyler, Founder of Tailor-Made Training Solutions, LLC will be the distinguished keynote speaker and presenter.
For the convenience of chapter members unable to personally attend the monthly meeting, a conferencing service is now available. Please visit the NAPW Columbus local chapter page for the conference's access number and pass code to join the conference call. This is not intended to replace face-to-face networking among members, but as a supplement for those members that are otherwise unable to meet.
For additional information regarding the NAPW Columbus Local Chapter and/or [NAPW please visit http://www.napw.com.
Follow NAPW on Facebook and Twitter.
###