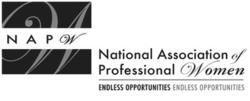 As a group, attendees agreed to plan for a holiday getaway coordinated by our very own member Sonya Tyler...
Garden City, NY (PRWEB) November 04, 2011
The NAPW Columbus Local Chapter held a meeting on October 20th at LaScala Restaurant, 4199 W. Dublin Granville Road, Dublin, OH 43017. Members in attendance included: Gail V. Goldman, President, Megan Gilbride, Sha'Ron Grace, Amanda Helber, Jennifer (Jenni) Martini, Sonya Tyler, Mary Richardson and special guest.
Mary Richardson welcomed all attendees in Gail's absence and opened the meeting at 6:38 pm. Gail arrived at 6:40 pm and welcomed the following new members to NAPW Columbus Chapter: Felicia Cauley, Joy Coulter, Liz Finchum, Amy Fischer, Vernessa Gales, Theresa Hughes, Christy Johnson, Kathleen Kuhns, Priscillia Sales, Beverlee Sokol, Janeen Tutolo, Irene Whitesides, and Domonique Williams.
Due to a last minute challenge, the location for October's monthly chapter meeting was changed to LaScala Restaurant. Conferencing service was not available and Gail extends her sincere apologies for members who may have tried to call in. Gail informed members that the conferencing service is not intended to replace face-to-face networking among members, but as a supplement for those members that are otherwise unable to meet.
Gail thanked all participants who attended September's networking dinner event that was held at LaScala Restaurant.
The first order of business was further discussions about solutions for increasing face-to-face attendance at the monthly meetings. As a group, attendees agreed to seek a permanent place for monthly chapter meetings. Discussions were also held regarding how to contact chapter members via survey on their interests and for their commitment(s) to start regularly attending monthly chapter meetings. Guest participant, Sha'Ron Grace recommended the chapter contact a survey service to assist with survey design and implementation.
The presentation opened with members giving a 30 second commercial.
Columbus chapter member Sonya Tyler, Founder of Tailor-Made Training Solutions, LLC and special guest Sha'Ron Grace, CEO/Sr. Development Coach of Becoming, Inc., gave an exceptional presentation for members around the theme of YES; and the acronyms for Y(ou) E(nvision) S(uccess), which involves affecting change in women's lives and becoming the success envisioned. Sha'Ron stated, "To become it, we must continue to confirm it."
Each lady confirmed what it is she wants to become:

Gail – a global process consultant
Amanda – a successful business woman, mother and wife
Megan – a successful leader and helper for everyone
Sonya – effective and efficient
Jenni – a private lifetime photographer (PPLP)
Marla – Independent
Mary – a professional relations consultant and better grandma
Shea – a multimillionaire affecting change in women lives
Guest author and coach, Sha'Ron Grace had her book available, which is titled: A.C.R.O.N.Y.M.S. of Success for Aspiring Business Woman & Entrepreneurs. With over fifteen years of public speaking and personal development coaching, Sha'Ron Grace's firm provides personal development coaching, motivational speeches, success books, CD's, articles and performing artist development. She produces and hosts a motivational radio talk show entitled "The Becoming Show", which is becoming nationally syndicated. It was a pleasure having Ms. Grace spend the evening with us. For the members who were not able to attend and meet this dynamic woman and entrepreneur, the chapter plans to have her return.
Sonya Tyler topped the night off with a special presentation of her travel business.
"As a group, attendees agreed to plan for a holiday getaway coordinated by our very own member Sonya Tyler," Gail said. "The trip is tentatively planned for December or January 2012 in beautiful Cancun, Mexico. More details are forthcoming. Ladies, your support and commitment to make this getaway a success is greatly appreciated!"
The meeting adjourned at 9:00pm. November's chapter meetings will not be held due to the Thanksgiving holiday. December's chapter meeting is tentatively considered the holiday getaway. For more information about the holiday getaway, please visit the Columbus chapter page for further details, plans and updates.
Gail would like to wish all Columbus chapter members a safe and enjoyable Thanksgiving holiday!
For additional information regarding the NAPW Columbus Local Chapter and/or NAPW, please visit http://www.napw.com.
Follow NAPW on Facebook and Twitter.
###