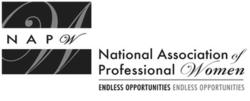 The local chapter's page should is a great first point of contact for all the local chapter's news, events and communications
Columbus, OH (PRWEB) July 01, 2011
NAPW Columbus, OH Chapter held a monthly meeting with new chapter president, Gail Goldman, on June 23 to share expectations and goals for the chapter.
In attendance were Gail V. Goldman, President, Natasha Borders, Jennifer (Jenni) Martini, Shirley K. Pollman, Sara Sherman. June's monthly meeting was held at Fairfield Inn & Suites (downtown) Columbus, OH.
Gail Goldman, Chapter President, welcomed all attendees and opened the meeting at 6:38 pm. Chapter members present gave a 60 second commercial; shared what their expectations are from NAPW and how the Columbus chapter can assist.
Gail announced that the Midwest Conference, scheduled for Friday, November 18th, is a chapter event and not hosted by the corporate office of the National Association Professional Women (NAPW). Per Cindy Burns, National Director of Local Chapters, NAPW hosts two conferences annually in the months of April and October. This year's first annual conference was held in New York in April; and the next scheduled national conferences will take place in 2012, dates to be determined. Chapter members are encouraged to visit the website and/or chapter page to stay informed.
Gail encouraged chapter members to visit the local chapter page for all future communications, which includes email through the message center, as well as the majority of all NAPW communications.
"The local chapter's page should is a great first point of contact for all the local chapter's news, events and communications," Gail reminded.
The first order of business was the vision for Columbus Ohio's chapter; there were discussions for several officer appointments and to form the following committees including:
Vice President, VP/Secretary, Historian/Photographer, Chairs for the following committees:

Social/Network Committee
Mentor/Mentee Relationship Committee
Volunteer/Membership Committee
Charity/Fundraiser Committee
The officer appointments and committee chair results are as follows:
Vice President - Open
VP/Secretary – Shirley Pollman
Historian/Photographer -Jennifer (Jenni) Martini
Social/Network Committee Chair – Natasha Borders
Mentor/Mentee Relationship Committee - Open
Volunteer/Membership Committee -Open
Charity/Fundraiser Committee - Open
The second order of business was the appointment of officer's and committee chairs tasks and objectives are as follows:
Secretary
Take minutes/Prepare and send out chapter meeting agenda
Prepare and provide a sign-in sheet at chapter meetings
Attendance keeper (at meeting)
Maintain local chapter's expenses
Keep up with the annual chapter's virtual calendar
Historian/Photographer
Local chapter's public relations person (assist networking chair with the logistics for events)
Take pictures of chapter meetings and events
Maintain a chronological photo album
Social/Networking Committee chair
Schedule and coordinate future speakers
Increase networking starting with chapter members by coordinating events/show and tell
Host activities and events (drawings, contests, give away)
There were discussions on the description for the remaining officer appointment and committee chairs. These descriptions will be shared once appointments are made. Committee chairs/or group members are asked to make a report to chapter members at every monthly meeting.
As a group, attendees agreed that everyone would like to see the women in our chapter to build membership and a strong network, learn to navigate the NAPW website, attend seminars and increase chapter members' attendance at the monthly meetings.
Natasha and Jenni are coordinating the chapter's first networking event. Details will follow at July's monthly meeting. The day for future monthly meetings are the third Thursday of each month. The date will be adjusted for days that fall on a holiday.
Gail extended special thanks to ladies for attending June's chapter meeting; and stepping up to the plate to assume officer and committee chair appointments. Also, thanks were extended to Bridget McColgan for making arrangements for permanent meeting rooms to host monthly chapter meetings.
The meeting adjourned at 9:00 pm. July's chapter meeting is scheduled for Thursday, July 21st from 6:00 pm to 8:00 pm located at Safelite Autoglass, 24 Farmers Drive, Columbus, OH 43235.
For additional information regarding the Columbus, OH local chapter and/or [NAPW please visit http://www.napw.com.
Follow us on Facebook and Twitter.
###