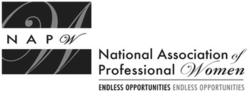 "We also discussed the Pennsylvania Conference for Women to be held in October in Philadelphia," Sue said. "We may decide to attend as a group."

Garden City, NY (PRWEB) November 03, 2011
The NAPW Erie Local Chapter met on July 8, 2011 at the Cove Restaurant over lunch. Attendees included Sue Moore, Diana Denniston, Sandi Carangi and Yvonne Horn.
A discussion was held on the future of the Chapter, what members expect to gain from the organization and how to plan the next meetings. It was unanimous that the chapter needs to have more involvement from membership and that the programs need to be geared toward topics of interest to professionals. Members also felt that they might have better turnout at meetings if they were held at a restaurant for lunch or late afternoon happy hour and/or dinner. A suggestion was made that they contact the presidents of a few other like-sized chapters to see how they are doing, what topics are covered and what attendance they are seeing at their meetings. Diana suggested that each attendee take a section of the country and call two or three chapter presidents.
Sue indicated that she received a call from a friend at Penn State-Behrend who belongs to another local professional women's group. They are also having trouble getting their members to attend meetings and wondered if the groups might brainstorm ideas together and/or consider combining the groups. Sue will contact her to get more information on their group.
Sandi brought forward information on the Dale Carnegie courses and their representatives are interested in presenting a short seminar to the chapter. The seminar would cover many of their topics that are covered in their programs. After a discussion, it was decided that the chapter might invite them to the September meeting as an opportunity to get acquainted and hopefully gain the interest of other members. If appropriate, Sue will also invite the other local women's group. Sandi planned to have a call with the Carnegie rep and get back to everyone.
"We also discussed the Pennsylvania Conference for Women to be held in October in Philadelphia," Sue said. "We may decide to attend as a group."
Topics of interest in future meetings and suggested speakers are:

Social Media in the Workplace
Finances/Retirement – JoEllen Nelson, Edward Jones
Fashion: Business Casual/Dress Down – What does it mean? – Debbie D'Angelo, Hamot
Stress: Balancing Work and Family
Success for the Entrepreneurs/Small Business Owners – Deb Steiner, Gannon SBDC
Christmas social gathering
The NAPW Erie Chapter September meeting was held at Under the Clock Restaurant over lunch and attending were: Sue Moore, Diana Denniston, Sandi Carangi, Marion Taylor, Terri Koebe and Yvonne Horn.
Members were joined by members of the Erie Chapter of Business and Professional Women. The groups exchanged information on both of the organizations and decided that there are ways that the two can partner. The Erie Chapter of Business and Professional Women invited NAPW members to attend their November 3rd meeting when Mark Neidig, Executive Director of the Kanzius Center will be the guest speaker. They recently won the Ellen DeGeneres Pink Well Award.
Attendees also gave reports on various phone calls made to other NAPW chapters to gain insight on what they were accomplishing. The organization has many wonderful chapters that are networking and making a difference for their membership. As a result of the phone calls and discussion, the chapter has some new ideas to generate interest in membership.
More information on upcoming events will be placed on the Chapter website page.
Events to attend:

Pennsylvania Conference for Women – October, 2011
WILD Conference – March, 2012
For additional information regarding the NAPW Erie Local Chapter and/or NAPW, please visit http://www.napw.com.
Follow NAPW on Facebook and Twitter.
# # #