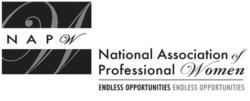 The Chapter is forming short and long terms goals that uphold the overall mission of NAPW...
Garden City, NY (PRWEB) October 14, 2011
The Essex County Local Chapter held a meeting on October 06, 2011 at the Robert Treat Hotel, Maize Restaurant in Newark, NJ. The meeting began at 7:45pm.
Members in attendance included Angela Carter and Tiffany Turner of Children with Many Talents and Belinda (Gail) Fladger, President and owner of BelRich 1040 $. Angela and Tiffany are new members to the association and local chapter. They are willing and eager to work within the association and chapter.
Belinda (Gail) extended a warm welcome to the new members and they are looking forward to working together. Several topics were discussed and the chapter hopes to expand on these topics amongst all members of the chapter.
It was determined that members and nonmembers can attend Essex County Chapter meetings. Nonmembers can attend two meetings to learn about the association, the chapter and the benefits of being a member. Nonmembers will be encouraged to make a decision regarding membership after attendance of second meeting. The group discussed the possibility of forming small groups and committees within the Essex County Local Chapter that will be responsible for specific roles in projects and achieving goals such as events and fundraising.
The chapter will set both short term and long term goals. A goal or project can be presented by any chapter member or committee during monthly meetings. The entire chapter membership in attendance will decide on which goal(s) to execute by way of a vote. The vote is ruled by the majority.
"The Chapter is forming short and long terms goals that uphold the overall mission of NAPW," said Belinda (Gail), Chapter President.
The President, Belinda (Gail) was contacted by PNC Group Sales manager, Michael Collazo regarding ideas for the chapter's fundraising. He offered the idea of the chapter purchasing a group number of seats for events offered at Prudential Center (PNC) in a minimum block of 20 or more seats to be sold by the chapter. The proceeds from the sales would be split amongst PNC and chapter. Two tickets (FREE) are given to the chapter along with other perks which could be raffled to members of the chapter.
The chapter hopes to designate a charity by December to donate presents for Christmas to children in need. Each professional will be asked to bring a toy or gift which will be donated to an organization agreed upon by the chapter members. Each present can be labeled with profession/business name and information for marketing purposes. The group is considering Toys for Tots.
The group is also hoping to have a winter coat drive where each member can bring one or more coats to donate to a homeless shelter or organization to be agreed upon by chapter members.
The meeting was adjourned at 8:30pm.
For additional information regarding the NAPW Essex County Local Chapter and/or [NAPW please visit http://www.napw.com.
Follow NAPW on Facebook and Twitter.
###