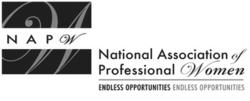 We should have our contact person by the next meeting so we can keep up our charitable momentum...
Garden City, NY (Vocus/PRWEB) April 08, 2011
Kathleen Cavallo, NAPW Freehold Chapter President, welcomed the group and asked everyone to mark their calendars for the next monthly meeting of NAPW's Freehold Chapter, formerly called the Monmouth County Chapter, taking place on Tuesday, March 22, 2011 at 7:00 p.m.
New members were present among regular attendees so the group reintroduced everyone.
Kathleen Cavallo, Chapter President is the Owner of Med Edge, a Marketing Agency specializing in the healthcare industry, offering products and services such as Strategic Thinking, Meetings/Events, Media Production, Application Development and Program Development.
Jessica Boyd is in Law Enforcement in Shrewsbury, New Jersey.
Ann Laurie Fratticciolli is the owner of Time Well Spent, a concierge service committed to helping others achieve the healthy balance between work and the special moments in life. Whether it's running errands or organizing an office to become more efficient, Time Well Spent will do an exceptional job for any company.
Lois Gilbert is the owner of The Word•Smith, a resume writer, speaker, workshop and webinar facilitator discussing resume solutions.
Marylynn Hawkins is a Realtor with ERA Advantage Realty. She is also the Marketing Director for Mobility Consulting & Contracting Co., offering home modifications for seniors and the mobility impaired.
Dr. Yvonne H. Johnson, Hall is the President and CEO of Harrison & Johnson Assoc., LLC. Her company promotes total wellness and employs natural, integrative energy technologies to support and compliment the body's normal functions to achieve the goal of optimal health and prevention of disease.
Tracy Melina is a business owner as an Independent Consultant for Arbonne, a Swiss based company that develops safe, pure, botanically based health and wellness products. Tracy is also an Insurance Manager in the Corporate Risk Management Department at Meridian Health.
Lisa Miceli Waters, Esq. is a partner with Giordano, Halleran & Ciesla. Her firm focuses on all aspects of commercial transactions, including secured transactions and commercial lending and borrowing; counseling buyers and sellers in asset and stock transactions, and advising clients with respect to the formation and organization of their business.
The Freehold Chapter of NAPW adopted a local family for the holidays through Foster and Adoptive Family Services, located in Monmouth Junction, NJ. Collectively, the Freehold Chapter donated toys, gift cards and clothes to a grandma and the four grandchildren that she is raising. Kathleen Cavallo, Lisa Miceli Waters, Dr. Yvonne H. Johnson, Alix Hayes, Lois Gilbert, Jessica Boyd, Fran Frank, and Liz Milio participated. The Chapter is proud of their efforts and success in helping a family.
The Freehold Chapter's next charitable connection is going to be working with 180 Turning Lives Around, a private, non-profit organization dedicated to ending domestic and sexual violence in Monmouth County, NJ.
"We should have our contact person by the next meeting so we can keep up our charitable momentum," said Chapter President Kathleen Cavallo.
The Freeport Chapter of NAPW is encouraging all members to market themselves and the chapter is taking an active step towards helping everyone do so. The group plans to initiate a Facebook page and to utilize LinkedIn and NAPW business cards. The Chapter will also be featuring and highlighting an individual member each month with Kat's assistance. They plan to feature members based on a first come, first serve basis and Tracy Melina be the first member profiled at the March 22nd meeting.
The national NAPW Conference is scheduled for April 29, 2011. Kathleen Cavallo, Lisa Miceli Waters and Ann Laurie Fratticciolli will be attending. The Chapter is encouraging all members to attend and represent Freehold.
Members were also encouraged to bring a guest or two to the next meeting.
###