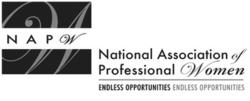 Be prepared to bring a friend and donations for the Dayspring Center as your contribution to this meeting...
Garden City, NY (PRWEB) September 08, 2011
The Indianapolis NAPW Chapter met at the Dayspring Center to tour the facility and learn more about their affiliation with Dress for Success Indy and how the NAPW Chapter can assist. Members met with Cheryl Herzog, the Development Coordinator, who provided the group with more information about Dayspring Center. Attendees: Barb Bade, Mikki Post, Melissa Trisler, Shelley Coughlin, Carol Coots, Sally Esbaum, Nita Conley and Lynn Moore.
Chapter President, Lynn Moore kicked off the meeting by welcoming everyone, briefly speaking about the agenda and introducing the host, Cheryl. Members were asked to introduce themselves and share what they do with each other. The goal for this meeting was to explore ways the chapter can serve children in the nearby community and assist in bringing attention, time, volunteers and resources to this organization.
About Dayspring Center and Homelessness…
Each year 15,000 people are homeless in central Indiana. Despite the common misconception that the vast majority are middle-aged single males, truth be known that nearly half of the homeless population in the heart of the Midwest are families with children. In fact, the average age of a homeless person in Indiana is actually nine years old. For many homeless families, Dayspring Center is their first step to a better life.
How does it happen?
Homelessness happens to all types of people, from all walks of life. Families turn to Dayspring Center for many reasons. For example: A father and mother both work but barely provide for the family on their minimum wage jobs, then, a rent increase. Unable to meet their basic expenses, the family is evicted. They find a place of dignity at Dayspring Center; A young mom with two children finds the courage to leave her abusive husband. They find a place of safety at Dayspring Center; A loving father of two loses his job due to cutbacks. For months, he is unable to find comparable work. He finds a place that will feed, clothe and provide shelter for his children at Dayspring Center.
On any given night over 1,500 children are homeless in the Indianapolis area. Dayspring Center is the nearest hundreds of homeless children think of as "home".
Individuals can join the NAPW Indianapolis Chapter in Adopt-A-Family: Indianapolis NAPW Chapter member, Nita Conley is helping the chapter organize an event for November and December. She is working with Michelle Jackson for the Adopt-A-Family for Christmas program and the families will be assigned the 2nd week of November.
"Nita suggests that we ask everyone to commit to a dollar amount to donate before November 1st so we will know many families we can adopt," Lynn reminded the group.
Nita can also organize a committee and shopping day for those who want to participate. In general, they figure about $100 per family member, gifts and clothing for the children and grocery gift cards for the adults. Depending on NAPW members' pledges, the group can determine the size of family and how many families they might adopt. Adopt-A-Family will provide names, sizes of family members and any special requests from the children. Anyone interested can contact Nita Conley by email Nita.Conaway(at)divsys(dot)com or phone 317-405-9427 Ext 2#.
Promoting Freebies…for members, or to share with others!!! Thanks to member Carol Coots, Indy Chapter members can sign up for the daily freebee (some repeat and most manufactures only send one per person or household). Freebees can be found at:
http://www.allyou.com/coupons-deals/daily-free-samples-00411000069695/
http://women.getitfree.us/blog/
http://www.stopconsumerscams.com/real-free-product-samples.html#access
Promoting Women in Business…
After the meeting, several from the group decided to visit Napolese, a wonderful woman-owned restaurant that is also part of the Patachou family. The group was served by "Chef " and enjoyed hand tossed pizza and delicious beverages.
On September 22, the chapter will sponsor tables at "Stepping Out in Style," the popular fundraising event held at the JW Marriott, Indianapolis, IN beginning with a 5pm cocktail hour, followed by speakers and a celebrity fashion show. Members were advised to contact Sally Esbaum at sjesbaum(at)desktopresources(dot)com to make a reservation.
There are only 10 seats left out of 30 at the NAPW Sponsored tables. Members were encouraged to make their reservations right away.
On October 12, Mikki Post will volunteer to find a Greenwood meeting location and has several interesting ideas for speakers who will share some fascinating information. More details are coming regarding this 6:30 pm event.
"Be prepared to bring a friend and donations for the Dayspring Center as your contribution to this meeting," said Lynn. "We will provide a wish list of needed items before the meeting."
On November 10, the chapter will host their meeting at Second Helpings, another great organization. They will participate in the monthly Community Awareness Night – which automatically provides tasty food items, Board Member representation and a tour of the facility.
On December 13, NAPW will provide a meal and speakers for our members and clients involved with Dress for Success Indy. NAPW members will participate in a panel discussion and provide thoughts on the written rules of the workplace, the unwritten rules of the workplace, financial planning, and work/life balance. Other members would be preparing to serve a meal for the group. The chapter was encouraged to contact Lynn Moore regarding their willingness to serve the meal, participate in the panel discussion or assist with the planning. Dress for Success Indy, 820 N. Meridian, Indianapolis, IN.
"We are looking forward to seeing you again at the Stepping Out in Style! event on September 22. Please watch for a meeting notice in the upcoming weeks and plan to bring a friend," said Lynn.
The Indianapolis Chapter Meetings are posted on the Indy Chapter page of the NAPW site:
http://www.napw.com/chapter/90/indianapolis/.
For additional information regarding the NAPW Indianapolis Local Chapter and/or NAPW, please visit http://www.napw.com.
Follow NAPW on Facebook and Twitter.
# # #