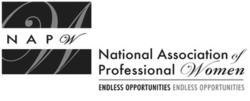 The Indianapolis chapter events are posted on the Indy Chapter page of NAPW.com...
Garden City, NY (PRWEB) November 19, 2011
The Indianapolis NAPW Chapter met for a gala networking event at the Stepping Out in Style, Dress for Success Indy event at the J.W. Marriott. The event was kicked off with a cocktail hour followed by speakers and a celebrity fashion show. NAPW members sponsored three NAPW tables and several of members' companies sponsored a table as well. Thanks were extended to Sally Esbaum for coordinating the event and to all for attending!
Attendees Included Sally J. Esbaum, Jamie Van Deusen, Dee Wills, Suzanne Canull & guest, Cheryl Herzog, Jennifer McNett and Danuta Panich at Table 1; Janis Hartman, Christina Sedberry, Michele Crohn and Guest, Tammie Fish, Nita Conaway, Mary Ann Hack, Bridget McDaniel and Guest, Mercedes Soria and Guest and Table 2; Vickie Proksch and Creative Labs staff and guests at Table 3.
The Indianapolis Chapter of Dress for Success hosted their annual Stepping Out In Style fashion show in September at the JW Marriott in Downtown Indianapolis. Now in its ninth year, the popular fundraising event is attracting upwards of 900 patrons, mostly women, and boasts a guest list including some of the city's most powerful women in business. In addition, among this year's attendees was Joi Gordon, CEO of Dress for Success Worldwide, who ironically was missing a fundraiser at her New York home in order to be in Indianapolis.
Presented by PNC Bank, this year's Stepping Out In Style event included the incredibly popular "Diamond Dig" presented by Aronstam Fine Jewelers and a "Match Challenge" led by the charismatic Denny Sponsel of RJE Business Interiors that generated more than $50,000 for the cause. The cause itself, to promote the economic independence of disadvantaged women, is reason enough to bring these women of influence back year after year and they appear to be bringing their friends and colleagues with them. It could be the fashions presented on stage by Murph Damron from several local boutiques like 8fifteen, Lesley Jane Inc. or The Secret Ingredient. More than likely, however, it's probably the models that came to support including Jennifer Browning Holmes, Sonia Chen, Jody DeFord, Anita DuBois, Jodi Hatcher, Melina Kennedy, Mary Leffler, Anna Kimble-Roberson, Bev Miller, Naie Maurer, Jennifer Satterfield Siegel, Sara Snow, B. Kaye Walter and Kitty Wooley-Tharte. Another motivator in developing such a loyal fundraiser following has to be the Indianapolis Fire Department model escorts.
The chapter extended invitations to members to next month's networking meeting at Piper's Café and Catering on October 12 at 6:30 pm at Piper's Cafe and Catering (upstairs) at 2130 W. Southport Road, Indianapolis, IN 46237. Members may RSVP by October 10 to Lynn Moore mooreinnovative(at)att(dot)net.
"The Indianapolis chapter events are posted on the Indy Chapter page of NAPW.com," Lynn reminded.
For additional information regarding the NAPW Indianapolis Local Chapter and/or [NAPW please visit http://www.napw.com.
Follow NAPW on Facebook and Twitter.
###