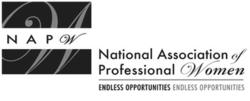 2011 was a year to Share… and 2012 will be a year to Learn!" Lynn said. "Plans for 2012 Indy Chapter Meetings are underway! If you have an idea you would like to share or a meeting you would like to host…let us know.
Garden City, NY (PRWEB) December 16, 2011
The Indianapolis NAPW Chapter gathered at Second Helpings in Indianapolis, IN for their monthly networking event. The group enjoyed appetizers, updates and a presentation by Nora Spitznoble, Director of Programs at Second Helpings, a nonprofit organization committed to rescuing food to meet the nutritional needs of those in need. Their motto is Eliminating Hunger. Empowering People.
Attendees include current members: Carol Coots, Jaye Miller, Bridget McDaniel, Sally Esbaum, Jamie Wills, Vickie Proksch, Mikki Post, Andrea Ciobanu and Lynn Moore. New members include: Mary Ann Heck and A.J. Waddington.
The NAPW Indy Chapter meeting opened with a tour of the Second Helpings organization. Nora shared the mission of the organization, her role, and the role that the community plays in serving. The downtown facility is open to the public for lunch where people can taste the culinary creations made by the Chef and his team. Hundreds of volunteers help prepare food for organizations in need every day.
On the evening the Indianapolis Chapter was there, the Indianapolis Colt's wives and families were participating in the kitchen, sorting food, and assisting staff with food distribution.
As a way to offer job training, Second Helpings offers a 10-week Chef's Program that allows students to earn certificates enabling them to gain employment in the restaurant and hospitality industry. For more information, visit http://www.secondhelpings.org.
NAPW Indy will ask members to help the chapter as they donate packaged pasta and rice to Second Helpings as one of their outreach events in 2012. Second Helpings Manager of Volunteer Services, Mary Parks is the contact to find ways to help. She can be reached at 317-633-2664.
The NAPW Indy Chapter will adopt two families for Christmas from the Dayspring Center! Nita Conway is coordinating the Adopt-A-Family project to provide these families with a Merry Christmas from NAPW and will be working on gathering wish lists and pledges for purchasing gifts for the families.
The chapter will sponsor two families of four, each have two children. Nita has asked that members make checks payable to Moore Innovative Solutions and Lynn will provide a receipt from Dayspring Center for each donor to complete for tax purposes. Lynn is willing to purchase the items and gift cards for NAPW and Nita will organize the shopping, wrapping, etc. Members were advised that the items must be wrapped, tagged, and prepared for delivery by Friday, December 16th at the Dayspring Center.
Pledges from the October meeting reached over $1,000 so members were advised to contact Nita Conway immediately at nita.conaway@divsys.com or 317-405-9427 Ext. 2 with their pledge amount so she can provide a report that will determine the amount for spending on each family sponsored from Dayspring Center. If members would like to make a contribution, shop for the family, or have questions, they may contact Nita by December 5th or attend the chapter's December 5th meeting to deliver checks and coordinate details.
On December 13th at 5:30, NAPW Indy Chapter will provide a meal and speakers for members and clients of Dress for Success Indy. Dress for Success offers a monthly meeting for their members of PWG – Professional Women's Group – to provide an opportunity to learn, network and build professional skills. Their meetings start at 5:30 and will end by 8:00PM.
NAPW members are invited to attend and assist, and they were advised to bring business cards for networking! Dress for Success Indy, 820 N. Meridian, Indianapolis, IN has parking on the south side of the building. Candice Brisson, Program Manager for the Professional Women's Group will be the chapter's facilitator and the agenda will include announcements, dinner, panel discussion, and wrap-up.
The itinerary will be:
5:30 Setup and Networking
5:45-6:15 Dinner - NAPW members would be available to host the meal by providing assistance
with the food (buffet-style), drinks and clean-up for the group.
6:15-6:30 Announcements and Agenda - Candice Brisson
6:30-7:30 Panel of NAPW Speakers - NAPW members will participate in a panel discussion and
provide thoughts on each of the four topics they have discussed this year:
1. The Written Rules of the Workplace Perspectives
2. The Unwritten Rules of the Workplace Perspectives
3. Financial Planning Advice
4. Work/Life Balance Tips
7:30 – 8:00 Discussion, Announcements, Adjourn
"Please RSVP by December 5th if you plan to attend and if you will hostess, confirm your participation on the panel, or assist with the planning," Lynn said.
Panelists will include Danuta Panich, Ellyn Traub, Shannon Hitchcock, and Jaye Miller. Panelists will share their philosophy, advice, etc. for each of the topics on the agenda. Hosts interested in assisting with the meal include: Sally Esbaum and Vickie Proksch, and others are welcome! Lynn will make arrangements for the food and drinks. Dress for Success will take care of plates, cutlery, paper goods, etc.
The Dress for Success Goodie Bag Stuffing Party is approaching. Members were invited to come together on December 5th – 6:30 pm to help stuff the Professional Women's Group bags with goodies. Lynn will host an NAPW informal meeting at her home and asks that members bring an item for each of the 25 bags that will be given to PWG December 13th. Members have already donated the following items: Post-Its Notebooks w/pens Pens, Pencils Markers Tissue Packs, Emery boards Tooth Brush/Paste Sets Breath Freshener Chapstick Personal Care Bags (soap/shampoo/conditioner/lotion/etc.). Items still needed include: Carol's Money Advice Booklet, Bridget's 2012 Planners, Mikki's Thank You Notes, and other items that would complete the gift.
"2011 was a year to Share… and 2012 will be a year to Learn!" Lynn said. "Plans for 2012 Indy Chapter Meetings are underway! If you have an idea you would like to share or a meeting you would like to host…let us know!"
Members were encouraged to email Lynn at mooreinnovative(at)att(dot)net with ideas and the month they would like to host. Dates will be announced.
January 2012 – Melissa Trisler would like to plan a "Soup's On!" event and will work on location, ideas and an organization that will benefit from this event. Suggestions were made to collect pasta (elbows and spaghetti) and rice for Second Helpings as an entry fee for the event. Melissa will follow up with details of what she is working on.
February 2012 – Lynn Moore would like to plan a Wine and Canvas event where you become the artist and paint a masterpiece that can be given as a gift, hung in your home, or auctioned off at one of the chapter's partner events.
March 2012 – The Chapter is looking into possible guest speakers.
Other ideas include: Harmony Wine – Wine Making - Jaye Miller will explore; Danny's Closet – the male version of DFS –Vickie Proksch will explore; Purchased Event – Invite other women – Mikki Post will explore; Planning for your Parent's Future – Carol Coots, Mary Ann Heck and others will explore; Healthy Lifestyle – Zumba, Kickboxing, Bellydancing, etc.; Speakers: Brian Kavicky – Lushin & Assoc. – Lynn; and Stepping Out In Style – DFS Fundraiser – September – Lynn.
The Indianapolis Chapter Meetings are posted on the Indy Chapter page of the NAPW site:
http://www.napw.com/chapter/90/indianapolis/ New Members: Prospective members will be invited to participate in up to two meetings prior to requiring a membership commitment to continue their participation. Members who would like to bring a guest may do so by their confirmation when they RSVP. All new member information will be sent to NAPW Director of Local Chapters Cindy Burns for follow up.
There are no local chapter fees. Chapter members will be responsible for their meal expense and a portion of the cost for special events, speakers, etc. as they confirm their attendance.
For additional information regarding the NAPW Indianapolis Local Chapter and/or NAPW please visit http://www.napw.com.
Follow NAPW on Facebook and Twitter.
###