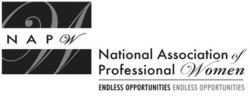 Our vision is to create a supportive atmosphere where positive, professional and diverse women can meet, network, inspire, learn and grow – both professionally and socially
Garden City, NY (PRWEB) November 22, 2011
Jenni Edwards, newly installed President of the NAPW Jacksonville Local Chapter, welcomed the women to the professional networking meeting on November 14th at 6:30pm. The chapter conducted a survey of how members intend to make this 'their' chapter and gain the most benefit through participation.
"Our vision is to create a supportive atmosphere where positive, professional and diverse women can meet, network, inspire, learn and grow – both professionally and socially," said Jenni.
Jenni read a speech retrieved from the Congressional Record of the presentation "Equal Rights for Women" by the Hon. Shirley Chisholm held May 21, 1969 in the House of Representatives, saying, "I chose this to open with because we, as business women, still face some of the same challenges. In the past 22 ½ years we have come a long way and together, we can go even further!"
Jenni stated that she wants everyone's input regarding 1) the locale of future monthly meetings, 2) ways to promote the new chapter, 3) ideas for speakers and events, and 4) how to make the chapter an invaluable resource for all members. As this new chapter grows, all ideas will be incorporated to the group's objectives, keeping the chapter's goals in sync with one another.
The group discussed how installing officers would help delegate responsibilities. Members were asked to consider volunteering for the following roles:
VP The Total You - Business & Leadership Development - This person will be responsible for coordinating speakers that we can be inspired by and learn from; VP Hospitality/Outreach - This person will be responsible for ideas, suggestions and coordinating events that will promote growth in our local Jacksonville chapter; VP Charitable Acts - This person will be responsible for helping our Chapter inspire and help others though coordinating an annual charity event and other activities throughout the year; VP Charitable Finance - This person will be responsible for the financial aspects of our charitable acts; Photographer/Media Relations - This person will be responsible for ideas photographing our meetings and events as well as helping us set up a Chapter Facebook Page; Secretary - This person will be responsible for Meeting Minutes and assisting with other communications and press releases.
It was agreed by attendees that meetings held the second Monday of each month would fit most schedules. Jenni asked if any members had access to a home location for our future meetings. Shana Herrin from the Stellar Group offered meeting space at her office and all agreed that this would be a good central location.The members also suggested and discussed potential charitable initiatives and ideas for future speakers.
Pending member Ann Cook, from Delicious Life Now agreed to speak at the December meeting and member Raheja Charu from Triage Logic, will speak at our January meeting on Savings and Finance.
Business cards were exchanged and new relationships were formed. "What a GREAT way for everyone to get to know each other," said Jennie.
The meeting was adjourned and attendees were told to look for an email with an update on the plans for the December meeting.
For additional information regarding the NAPW Jacksonville Local Chapter and/or NAPW please visit http://www.napw.com.
Follow NAPW on Facebook and Twitter.
###