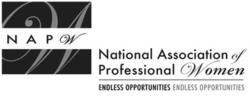 Guest speaker Anne Cook spent the remainder of the meeting enlightening the group on how to live a Delicious Life NOW," said Jenni. "It was very insightful.
Garden City, NY (PRWEB) December 22, 2011
The professional women of NAPW met for a networking meeting this month. Jenni Edwards, Chapter President, welcomed those in attendance at the NAPW Jacksonville Local Chapter meeting. This was the second meeting under the newly installed president. Consistent with last week's meeting, the focus was on charitable efforts. The first few minutes were spent discussing the addition of a more relaxed, social meeting to focus on networking. The goal of the gatherings will be not only to strengthen personal relationships between NAPW members, but also to support local businesses. The first gathering will be held Wednesday, January 25th, 2012 at Corner Bistro Wine Bar. The start time is 6:30pm. It was noted that these meetings will be in addition to the monthly meetings, not replacing the monthly meetings.
Next, the group spent time discussing plans for an annual charity event. The event would be in addition to an ongoing effort to aide charities in the Jacksonville community. The Betty Griffin House was discussed as an option, however their main annual event is coming up quickly on January 28th, 2012; Shana Herrin, VP of Charitable Acts, will research local charities. Members expressed the desire to benefit local charities as much as possible, as well as women-specific charities, such as the American Cancer Society Florida Division's "Put on Your Pink Bra" campaign.
The conversation turned to the need to get the word out about the new life that has been breathed into the Jacksonville Chapter. Due to the newness of the group, this was the second meeting under president Jenni Edwards, there is a need to reach out to women in the Jacksonville area to attend meetings. Jenni mentioned that there are 11 new Chapter members as of December 1st. NAPW member Cheri Jones volunteered to create a Facebook page dedicated to the Jacksonville Chapter.
Shana Herrin, VP of Charitable Acts, gathered gifts collected for two young women whose lives are touched by Community PedCare. She thanked all for their contributions and will assemble and deliver gift baskets from the items collected.
"Guest speaker Anne Cook spent the remainder of the meeting enlightening the group on how to live a Delicious Life NOW," said Jenni. "It was very insightful."
Key points of her presentation included the idea that owning a business is like having a baby: nourish, cherish and want it, but it has to fit in with other family members. She recalled that everyone tried to give her advice and tell her what to do, but she stayed true to her vision. She used to write goals every New Year, but found it difficult to accomplish many of them. She now writes letters to her future self of what has happened in the last year – the motivation behind her new product "Living the Life of Your Dreams." This gives your brain the opportunity to believe your desires to be truth. She now looks back and consistently accomplishes approximately 80% of the items she said she would. For example, instead of writing "Goal: Lose Weight" she writes "Size 4 is loose on me." Her brain recognizes this decision to lose weight as truth and affects her actions, thus resulting in weight loss. She encouraged the group to write their own letters this coming New Year. As a group exercise, attendees discussed what they 'had accomplished in the last five years'.
Jenni Edwards closed the meeting with the announcement of two new officers:

Shana Herrin – VP of Charitable Acts
Leah Zimmer – Secretary
An upcoming meeting will be held on Monday, January 6th, 2012 at 6:30pm at Stellar (Brick Building on Property) 2900 Hartley Rd., Jacksonville, FL 32257. Guest speaker, NAPW member Charu Raheja, will discuss Savings and Basic Finance.
For additional information regarding the NAPW Jacksonville Local Chapter and/or NAPW please visit http://www.napw.com.
Follow NAPW on Facebook and Twitter.
###