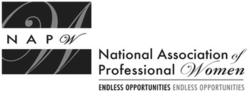 Our chapter mission will be to connect women so as to inspire and empower them to succeed in their professional and personal lives. Continuously supporting and improving the Kansas City community through service to others.
Garden City, NY (PRWEB) November 16, 2011
The Kansas City Metro Chapter of NAPW met at Bass Pro Shop in Olathe on September 28th.
The Chapter announced their newly appointed Vice Presidents at the September meeting. Alisha Rice will serve as the Chapter VP; Joanne Pope as the VP of Social Events and Charity; Shawn Boswell as the VP of Membership and Recruitment with Committee members Irena Rice and Amy Kesler; Colette House will serve as the VP of Finance and Diana Jones as the VP of Digital Media. Each VP will head up their committees and report on progress at the monthly meeting.
The chapter has agreed to focus their efforts on recruitment for the rest of the year to reach their goals. After the first of the year they will have a charity calendar developed to keep planning six weeks ahead of each chapter event.
Alisha Rice introduced the new agenda format with a schedule of specific activities designated for certain times. Bells will be purchased to use freely to keep the schedule on target. The new agenda will be formatted as follows:
The Meet & Greet was conducted at the start of the meeting. Last month's minutes were reviewed and the chapter addressed the action items created in that meeting. Each member took thirty seconds to share information about themselves, their businesses or their current involvements. VPs provided updates regarding the progress within their committee before the attendees socialized and networked.
The chapter had several guest attendees at this meeting who were trying to become NAPW members. The chapter intends to build their own brochure and work with National to make sure their attendees have easily accessible information on the application process.
The chapter decided to move the monthly meeting from the last week of each month to the third Wednesday. Meetings will continue to be held in different locations around the Kansas City Metro in the hopes to accommodate more members. '
On October 19th, 2011, the Kansas City Metro Local Chapter hosted their meeting at Harrah's Casino 810 Zone. Members in attendance included Colette House, Diane Jones, Irena Rice, Mary Apriori, Alisha Rice, Brooke Suggs, and Anne Haynes.
This was the chapter's first meeting with the new agenda schedule and the group was hard pressed not to go over the allotted time for each activity. It was suggested that the group create an agenda board to put up at each meeting to keep everyone on task. Bells have been purchased to help keep the group on track.
The newest member to join the monthly meeting activities was Mary Apriori. Mary has a home-based business focusing in skin care. Each member introduced themselves and learned more about Mary Apriori.
Diane Jones, VP of Digital Media, will be creating a Vista Print template so each member can create business cards. Diane is currently working on the logo to make it high resolution.
Collette House brought in a holiday flyer put on by the KC Women's Network. The chapter is considering a similar event for Holiday 2012
Creation of the chapter mission statement began with Diane Jones taking notes and compiling the mission statement based on the keywords provided by attendees.
"Our chapter mission will be to connect women so as to inspire and empower them to succeed in their professional and personal lives. Continuously supporting and improving the Kansas City community through service to others," said Anne.
The chapter's goal for Q1 2012 was designated as 50 active members. Discussion on upcoming events started. The November meeting will be held on Wednesday, November 16th at 5pm at Harrah's Casino 810 Zone. Details can be found at http://kansascitynapw-november2011event.eventbrite.com/.
The chapter will be going over their website and social media properties.
"It's important that we all know that we have a presence on the web. We all have to know where our tools are to promote the chapter," said Diane.
"The holidays are always busy, but it's within these busy times we all need support and ideas in making the holidays more fun and less of a hassle," said Anne. Members were encouraged to bring one holiday tip which has made the holidays easier for them. The group will vote on the best idea and this person will receive a Starbucks gift card valued at $20 to keep them going during this holiday season.
"Please bring can foods to the November meeting. We will be donating this to the Harvesters Community Food Network," reminded Joanne, VP of Social Events and Charity.
Additional agenda items which will be covered include the holiday party, the chapter's mission statement and the 2012 planning and leadership requirements.
The chapter Holiday Party will be held on Friday, December 2nd at 6:30pm. Details can be found at http://kcnapw-holiday-party.eventbrite.com/. It will take place at Anne Haynes' house in Overland Park, close to Prairie Village. Directions are provided on event confirmation page. Cocktails and appetizers will be served. The group will have a gift exchange, so bring a gift between $10-$20 dollars.
For additional information regarding the NAPW Kansas City Metro Local Chapter and/or NAPW, please visit http://www.napw.com.
Follow NAPW on Facebook and Twitter.
###