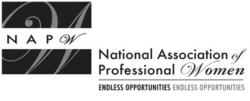 It is interesting to see the unique ways that each NAPW member utilizes the site to help promote their business
Garden City, NY (PRWEB) September 08, 2011
The Las Vegas Chapter met on Tuesday, August 9th, 2011 at 5:30pm at Mimi's Café, located at 7315 Arroyo Crossing in Las Vegas, Nevada.
The group socialized upon arrival and Chapter President Barbara Henry opened the meeting at 5:45pm. The meeting began by welcoming members and guests. Barbara discussed the NAPW website with the group and provided information on how to navigate the site to best view and review updates and information. Barbara also discussed the perks and benefits of being a NAPW member.
In attendance were: Barbara Henry, President of NAPW Las Vegas Chapter, and Allstate Ins. Agency owner; Cheryl Trent, Allstate Ins. Agent; Carol, representative of Sams Club, Tracy Peters, Entrepreneur; Julie, Entrepreneur; and Evelyn Carter of Whyte Rabbit Lingerie.
Each member gave a detailed presentation on their business, company or line of work, and described how NAPW membership has assisted them in developing business. "It is interesting to see the unique ways that each NAPW member utilizes the site to help promote their business," said Barbara.
Evelyn of Whyte Rabbit Lingerie presented the meeting's Spotlight on Business. She gave a presentation and displayed sample shoes and the unique lingerie line that she represents.
The group discussed changing locations for the next meeting. Barbara plans to research a more convenient location and will let everyone know by email. She will also post details on the NAPW website. The meeting was adjourned at 7:00 pm. The next meeting to be held on Wed. Sept. 14, 2011 at The Brentwood Café located at 7325 W Warm Springs Road, Las Vegas, NV.
For additional information regarding the NAPW Las Vegas Local Chapter and/or [NAPW please visit http://www.napw.com.
Follow NAPW on Facebook and Twitter.
# # #