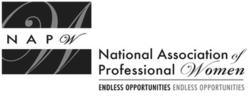 The topic for this session will be Leadership... With so many business owners in the group this topic is essential.
Garden City, NY (PRWEB) September 27, 2011
NAPW - Los Angeles Chapter
FOCUSED – GROWING - EMPOWERING
The National Association of Professional Women - L.A. Chapter hosted an evening affair for its September 2011 monthly meeting at Factor's Deli in Los Angeles.
Chapter president Ruth Garcia-Corrales, Advertising & Marketing Manager for La Curacao and former Consul General of Costa Rica, welcomed all members of NAPW of Los Angeles Chapter. The chapter had several L.A. area NAPW members attending for the first time.
The topic of discussion for September's meeting was Finance & Grant Writing. Ruth introduced Cat Lambertini, First Vice President for Morgan Stanley Smith Barney and Jamie Jackson, Grant Writer and Co-owner of Belles Voyage, a travel service wardrobe selection.
Jamie Jackson has been writing grants for over 20 years. She shared her expertise including step by step details on how to write and develop a presentation/grant that will attract donors with means and resources. She emphasized the importance of networking and creating relationships with organizations that can provide an opportunity to grow an individual's network.
Cat Lambertini presented the different types of retirement programs available to women today. She explained that women live longer, thus, advance planning is essential to have a better and more comfortable retirement. The younger you start, the better prepared you will be in retirement. What you spend is not the issue; the important thing is what you save. You should first plan your savings, and create your budget from what is left over, not the other way around.
The L.A. Chapter's next breakfast meeting is scheduled for Wednesday, October 19th, 8:30-10am at Factors Deli, 9420 West Pico Boulevard, Los Angeles, CA 90035. Valet parking is available for $3.
"The topic for this session will be Leadership," Ruth said. "With so many business owners in the group this topic is essential. We look forward to seeing you all there."
In addition, the Los Angeles Chapter will have a special event on September 30th at the Four Seasons Hotel in Beverly Hills, from 3-7pm. All L.A. Chapter members are invited to attend.
"Personnel from NAPW headquarters in New York will also be in attendance, with many surprises in store," said Ruth. "We hope to see many new faces."
September meeting attendees included:
Ruth Garcia – Advertising & Marketing Manager for La Curacao, and former Costa Rica Consul General. Ruth is the L.A. Chapter president. ruthg@lacuracao.com
Cat Lambertini, financial advisor with Morgan Stanley Smith Barney in Beverly Hills. http://www.morganstanley.com
2-2-2
Catherine Minervini, Founder & Principal, Green Owl Studio, a strategic marketing consultant dedicated to the design industry. Check out her website http://greenowlstudio.com
Daisy Marks, Executive Secreatary Westside Regional Center. daisy(at)westsiderc(dot)org
Dr. Mary Fallie, Forensic Psychologist. Mmf1st590(at)cs(dot)com
Tamara Kurtzman, Corporate & Contract Law. tamara(at)kurtzmanlaw(dot)com
Lorri Herman, Arbonne International. lorriherman(at)me(dot)com
Karen Goodman, Entertainment Marketing. kgoodleo(at)aol(dot)com
Lerena Barbe , Special Projects Liaison for MillionTreesLA lerenabarbe(at)gmail(dot)com
Mercedes Holley, Univision Account Executive- Media. mholley(at)univision(dot)net
Jamie Jackson, Grant Writer and co owner of Belles Voyage. jamiejackson(at)hotmail(dot)com
Octavia Brown, Consulting for you, Business consultant. Octavia(at)consultingforyouca(dot)com
Elizabeth H Nguyen, Director of Finance enguyen(at)mpplaw(dot)com
Nicole Dickerson, Financial Advisor, Morgan Stanley Smith Barney Nicole.dickerson(at)mssb(dot)com
Kristi Razo, Independent Consultant Arbonne Kristi.razo(at)yahoo(dot)com
Beth Kalish-Weiss, Psychology and Psychoanalysis. bkalishweiss(at)mindspring(dot)com
Rashunda Rene, Committed to uplifting Single Parents. rashundarene(at)gmail(dot)com
Carrie Flint, Professional Development Training Peaceful Playgrounds. carrief(at)peacefulplaygrounds(dot)com
Nicole Cordoba, Msn Candidate. niknec(at)yahoo(dot)com
Bernadette Prudhomme, Skin Care Therapist. info(at)aestheticsbybernadette(dot)com
Susan Bock, Inspirational Speaker. Susan(at)susanbock(dot)com
Jacqueline Ellman, Iron Mountain jacqueline.ellman(at)ironmountain(dot)com
Susan Hardwick, Belles Voyage, go beautiful. bellesvoyage(at)gmail(dot)com
The National Association of Professional Women (NAPW) is an exclusive network for professional women to connect, learn and inspire. NAPW members enjoy a wealth of resources and services dedicated to the enhancement, empowerment and promotion of their careers. http://www.napw.com
For additional information regarding the NAPW Los Angeles Local Chapter and/or [NAPW please visit http://www.napw.com.
Follow NAPW on Facebook and Twitter.
###