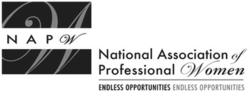 ...As we all look for ways to survive and thrive in the current economic environment, it is imperative to work all of the levers within our control...
Garden City, NY (PRWEB) December 16, 2011
The National Association of Professional Women Los Angeles Chapter hosted an evening networking meeting event on November 16, 2011 called Business Wardrobe – Empowering Yourself – Dress Your Body.
Chapter president Ruth Garcia-Corrales, Advertising and Marketing Manager for La Curacao and former Consul General of Costa Rica, welcomed all members of NAPW of Los Angeles Chapter. As in every meeting there were current members in attendance in addition to several L.A. area NAPW members attending for the first time.
The topic of discussion for November's meeting was "DOES YOUR LOOK WORK FOR YOU?" Ruth introduced guest speakers: Susan Hardwick and Jamie Jackson co-owners of Belles Voyage, a company that will prepare your wardrobe for travel.
The question they both started with was: "Who are you in the present? As we all look for ways to survive and thrive in the current economic environment, it is imperative to work all of the levers within our control. The most important one may be the way you present yourself to the world."
"Your physical presentation should be consistent with who you are at the present time, be inspirational, and add to your level of confidence. Your look may not be working for you if you do not own a mirror and don't check yourself out regularly, if you are waiting to pull it together after you lose "those last ten pounds," or if people in your life are dropping little hints about the way you look."
There are many resources available for those who would like to consider their style more seriously. Susan and Jamie suggested Tim Gunn's list of items that every woman should own. The list includes: a basic black dress, a trench coat, dress pants, a classic shirt, jeans, an all-occasion top, a skirt, a day dress, a jacket, a sweatshirt alternative and one indulgent trendy item.
Other resources they suggested include a book called "Trinny and Susanna, What You Wear Can Change Your Life", and Lloyd Boston's book, "The Style Checklist." The following are the best of "Belle's Tips" from Jamie and Susan of Belles Voyage:
"Remember these things, if you remember nothing else: Dress the body you are in right now, don't be afraid to ask a trusted person if you have the fit right, make sure your underwear fits, add some color, and accessorize."
Members in attendance included: Ruth Garcia – Advertising & Marketing Manager for La Curacao, and former Costa Rica Consul General. Ruth is the L.A. Chapter president. ruthg(at)lacuracao(dot)com; Daisy Marks, Assistant Director of the Westside Regional Center. daisy(at)westsiderc(dot)org; Lorri Herman, Arbonne International. lorriherman(at)me(dot)com; Brigitte Rozenberg, Chiropractor. brigitterozenberg(at)sbcglobal(dot)com; Concetta Halstead Lord Creative Director, info(at)lordcreative(dot)com; Gay K. Morris, Apronista and owner of Kersey Girl Creations-Aprons and more… gay.k.morris(at)gmail(dot)com; Lerena Barbe, Special Projects Liaison for Million Trees LA lerenabarbe(at)gmail(dot)com; Corkie Van Zak, Travel Arrangements, corkievz(at)protravelinc(dot).com; Susan Hardwick, Belles Voyage, go beautiful. bellesvoyage(at)gmail(dot)com; Jamie Jackson, Grant Writer and co-owner of Belles Voyage. jamiejackson(at)hotmail(dot)com; Karen Goodman, Entertainment Marketing. kgoodleo(at)aol(dot)com; and Ruth Klein, Brand Marketing Specialist. RKlein(at)Ruthklein(dot)com.
The Los Angeles Chapter's next morning meeting is scheduled for Wednesday, December 14th, 8:00-10:00AM at Factors Deli, 9420 West Pico Boulevard, Los Angeles, CA 90035. Valet parking is available for $4. The topic for the upcoming session will be "How to Start a New Business or a New Nonprofit".
"With so many professionals in the organization starting a new business in 2012, this meeting should be a great resource. We look forward to seeing you all there," Ruth said.
The National Association of Professional Women is an exclusive network for professional women to connect, learn, and inspire. NAPW members enjoy a wealth of resources and services dedicated to the enhancement, empowerment, and promotion of their careers. Visit http://www.napw.com.
For more information on the local Los Angeles chapter, contact Ruth Garcia-Corrales at 213.639.2096 or email ruthg(at)lacuracao(dot)com.
Follow NAPW on Facebook and Twitter
###