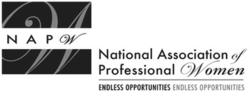 I anticipate plenty of action to gain member attention and create a focus for the new Louisville chapter...
Garden City, NY (PRWEB) July 15, 2011
NAPW Louisville Chapter launched their first official meeting with new president, Amy Caryn Warnka, on Wednesday, July 13th, 2011 from 11:30 a.m. to 1:30 p.m. at Wick's Pizza @ Hurstbourne. Prior to the meeting, announcements were made on the Chapter Wall and details were listed in the meetings section of the Chapter Page. The president emailed a reminder to each chapter member one week prior to the initial meeting.
Members in attendance included Amy Caryn Warneka, President, NAPW Louisville Local Chapter/CEO IPaSS Consulting; Sandra K. Veal, Business Manager, MDVIP Personalized Healthcare; Lynn Calvert, CEO, Otherworld Publications; Elaine A. Matthes, Seminar & Fitness Leader, Renewal: Body & Spirit; Mary Pat Taylor, Safety Specialist, Guard-a-Kid.
Amy opened the meeting by welcoming everyone and introducing herself before explaining her immediate goals for the chapter.
"I anticipate plenty of action to gain member attention and create a focus for the new Louisville chapter," Amy said.
Each person was asked to briefly state who they were, what they did, and what they hoped to gain as an NAPW local chapter member.
Amy proposed several ways in which the chapter could contribute to the community including the donation of business clothing to women's shelters or through donations to worthy causes or organizations. The group discussed the possibility of creating a mentorship program for young women, providing guidance in business and teaching leadership skills. The chapter intends to create a more focused mission and agenda based on these ideas.
The chapter discussed ideas to increase member participation and determined a set time and place for monthly meetings. Mary Pat suggested that a set time and place would ensure member attendance more readily than if the venue changed each month. Members agreed that a luncheon on the second Wednesday of each month would be the best time for all. Sandra and Elaine suggested KT's Restaurant, as it is a more centralized location among attendees, without the parking issues that would arise if the chapter met downtown. After the meeting closed, Amy made arrangements for the next meeting to be held at KT's Restaurant for 11:30 a.m. on Wednesday, August 17th.
Mary Pat suggested a master list of all members and email addresses. Amy stated she would contact each member to ask permission to publish their contact information before distributing. Amy also agreed to distribute the meeting minutes immediately to all members.
Amy has high hopes for this chapter. "We would like to see our membership grow, and we'd like to create a specific niche for our members and the chapter," she said.
Amy invited each member to participate as a speaker at a future meeting. She said that she would bring in guest speakers who may or may not be members. She also reminded the ladies to bring friends, colleagues, co-workers and other women they think would benefit from these meetings, even if they are not current members. Each agreed and stated they are happy to see this chapter becoming more active.
Lynn volunteered to do a presentation at a future meeting about a cause she has a personal connection to: a specific heart condition that could be affecting millions of women unknowingly.
Amy asked if any would take the voluntary position as chapter secretary. Lynn volunteered for the position and Amy met with her briefly after the meeting to discuss the position's responsibilities and to assist her in getting started.
For additional information regarding the Louisville local chapter and/or [NAPW please visit http://www.napw.com.
Follow us on Facebook and Twitter.
###