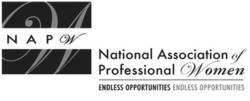 We had a great time and I look forward to the next meeting. We will aim to grow our chapter while trying to reach out to the other members.
Garden City, NY (PRWEB) September 08, 2011
National Association of Professional Women's Greater Memphis Chapter held their first meeting which included a Meet and Greet, an outline of chapter objectives, and a discussion of the future agenda.
The main objective for the group was to establish a forum to meet and network with professional women from all walks of life. Additional objectives included creating an opportunity to promote members' businesses and careers, and providing a platform for members to engage in meaningful discussions that will contribute to their professional growth. The Greater Memphis Local Chapter seeks to promote individual ideas, so that members gain needed guidance and have access to necessary resources to be successful in all their endeavors.
NAPW Greater Memphis Chapter President, Onika Shirley, greeted the members by welcoming everyone to the chapter and thanked them for coming out. The National Association of Professional Women (NAPW) is a rapidly growing association for female executives, professionals, and entrepreneurs in the United States. The organization spans almost every industry, including health and medicine, education, advertising and public relations, manufacturing, publishing, communications, technology, law, transportation, finance, and more.
The Greater Memphis Chapter held the Meet and Greet meeting on Saturday August 13, 2011 at 2:00 PM at Ruby Tuesday's 7535 Winchester Road, Memphis, TN 38125. There were two members in attendance. Onika formally announced her new appointment as chapter president and welcomed everyone to the meeting, then briefly spoke about NAPW and the resources available on the website.
"Business networking and support were cited as the top reasons why members joined NAPW. We also discussed how NAPW local chapter meetings can offer us an opportunity to meet new people and gain external inspiration. We received great tips and ideas on ways to market and get leads when aiming to get our name, products, and businesses in front of potential customers and clients," she said.
Attendees exchanged business cards, had dialog on why they joined NAPW and what they expect to get out of their membership. Members also discussed appointing positions and responsibilities during the next meeting, chapter ideas, and the next meeting date.
Members in attendance included April Davis, Gayle Anthony and Onika Shirley- Chapter President.
April Davis is the Marketing Director/Owner for C & L Bus Repair Service, LLC. Her company's principal products and services include bus repair and maintenance. She is a marketing expert.
Gayle Anthony is the President of Healthcare Space Planning Consultants, LLC. She started her consulting business earlier this year and is looking to expand her business in the near future.
Onika Shirley, Greater Memphis Chapter President, is the Material Controller/Warehouse Supervisor of Amerimax Building Products, a Certified Master Life Coach, an Independent Scentsy Consultant, a Foster Parent for the State of Arkansas and a Youth Department Coordinator. "I love challenges and aim to stay busy," she said.
The meeting was informal and gave the attendees the opportunity to break the ice and communicate like life -long friends.
"We had a great time and I look forward to the next meeting. We will aim to grow our chapter while trying to reach out to the other members," Onika said.
The next meeting is scheduled for October 1, 2011 @ 2:00 PM at Ryan's in Southhaven, Mississippi. Members were encouraged to RSVP as soon as possible.
Next meeting topics include: starting a new business, business expansions and marketing. Members were encouraged to bring their expertise and be prepared to speak. They were advised to bring advertisements, business cards, brochures and anything else they might like to distribute.
For additional information regarding the NAPW Greater Memphis Local Chapter and/or NAPW, please visit http://www.napw.com.
Follow NAPW on Facebook and Twitter.
# # #