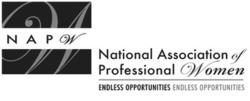 I joined NAPW to expand my networking opportunities and to gain new friendships.
(PRWEB) October 12, 2011
National Association of Professional Women's Greater Memphis Chapter held another successful networking meeting in October. NAPW Greater Memphis Chapter's October meeting included the introduction of new attending members, chapter objectives and membership benefits, the past meetings summary, and a discussion of the future chapter's agenda.
Onika Shirley, Chapter President, started out by asking the group to introduce themselves. She then provided an informative presentation on NAPW member benefits and highlighted the local chapter Community Wall and the great features of the Business Resource Center. The path to the Business Resource Center was shown to members along with visuals of the Business Plan Template and the Start-up Cost Template. She provided members a copy of last month's meeting minutes and informed them on where they can find them via the NAPW website.
The chapter then invited members to express why they joined NAPW and what they expected to get out of their membership.
"I joined NAPW to expand my networking opportunities and to gain new friendships," Kris said.
"As a group we feel, networking is on the rise and it is all about contacts, networking and possibilities," added Onika.
The group discussed ideas for encouraging new members to join NAPW and how to get existing members to attend future meetings. The chapter discussed future meeting dates, potential future meeting topics, guest speakers and volunteering for community services. Members agreed that hosting a guest speaker would be great and Gayle suggested conducting a Q & A session with the speaker to gain a "nuts and bolts" understanding on how they got where they are and what they had to do to get there.
"I like the idea of community events," said Gayle and Kris expressed that she "loves doing community service."
It was decided to have the monthly meetings scheduled for the 1st Saturday of every month to avoid having to choose a different date every month. The group will continue to discuss meeting locations and times that are most convenient for the majority of the group. Members expressed that they were willing to travel to different locations in the surrounding area to have meeting place flexibility. The group agreed to connect on LinkedIn and Gayle provided an update on the progress of her business.
The chapter anticipates having more members to attend future meetings to vote in on chapter positions.
"As president, I am opening the following positions: Vice President, Secretary and Treasurer. I am hoping to have these positions filled during the meeting in December 2011," Onika said.
The meeting was very productive and Onika extended her appreciation to everyone in attendance. "We will continue to grow with the collaboration of ideas from all the great members of our local chapter and the insights from future guest speakers. When we aim to achieve success, nothing can stop us but our own failed efforts. We haven't failed, until we fail to try. I am looking forward to the next meeting and hope you are able to attend to share your ideas and insights for the growth and success of our local chapter," she said.
"Promote yourself, promote your business, and promote your careers."
Members who attended October 1, 2011 meeting included the President of NAPW Greater Memphis Chapter, Onika Shirley; Gayle Anthony, President of Healthcare Space Planning Consultant and Kris Seiler, Operation Service Assistant for United Stationers Supply.
The next meeting for the Greater Memphis Chapter is scheduled for Saturday November 5, 2011 at 2:00 PM at Ryan's on Goodman RD.
For additional information regarding the NAPW Greater Memphis Local Chapter and/or NAPW please visit http://www.napw.com.
Follow NAPW on Facebook and Twitter.
###