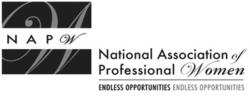 We discussed what companies really look for in a resume...
Garden City, NY (PRWEB) June 10, 2011
NAPW's Milwaukee Chapter held a meeting on June 1st at the Sheraton Milwaukee-Brookfield Hotel in Brookfield, WI at 5:30 p.m. Members and guests present included Robyn Olszowy, President of NAPW Milwaukee and Creative Consultant; Jeannette Choate, Senior Cost Accountant, Highmark; Dawn Drellos-Thompson, Attorney at Pellmann, Drellos and Associates, SC; Joanne Kaminski, Reading Specialist with Online Tutoring International; Renee Love, Independent Tupperware Manager; Carrie Murphy, Accounting/Finance Manager with Metro Clean Corporation; Joanne Porter, Manager at Potawatomi Bingo Casino; Sheila Barnhart, Executive Manager with Send Out Cards; and Annalee Kruger, President of Care Right, Inc.
The meeting began with a casual sign-in and networking segment. Attendees placed dinner orders and got into the meeting agenda.
A short discussion was held regarding the Midwest Conference in Naperville, IL, hosted by the Chicago Chapter. Five Milwaukee chapter members are signed up to attend and several others have expressed interest in attending. The discounted fee period is past, so it is now full price.
Robyn Olszowy, Chapter President, heard something new about resumes on the news and shared this information.
"We discussed what companies really look for in a resume," said Robyn. A survey was conducted and reported on the news that found employers are more interested in the mindset, attitude, heart, and what's inside a potential employee. Many companies agreed that anyone can be trained in a position if they possess these qualities. They called the results the 3 G's: Global, Good, and Grip. Global refers to an understanding of the big picture and the bottom line. Good refers to the ability to do the right thing, being a team player. Grip refers to resilience, the stick-to-it-ness to get a job done and not give up.
Renee then shared information with the group that she learned about the Lost Generation.
The chapter then discussed the next meeting, scheduled for July 6th. Several commented that they would not be able to attend and wondered if we should change the date or cancel it. Members discussed possibilities and also stated that a change in meeting times and dates may confuse people as we have met the 1st Wednesday of the month consistently. Robyn decided to check with the hotel to see if changes were possible and it was discovered that if a date change is made for within the same month, the chapter would not have to pay the room rental rate. Robyn made an executive decision to keep the date for July 6th this year and look into other options for the future.
Renee presented on Tupperware to the group. Dinner arrived towards the end of the presentation. Before we adjourned Robyn took a photo of the group.
For additional information regarding the Milwaukee, WI local chapter and/or [NAPW please visit http://www.napw.com.
Follow us on Facebook and Twitter.
###