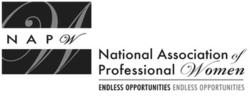 We each came away with good information and invaluable networking connections...
Garden City, NY (PRWEB) December 21, 2011
The Milwaukee, Wisconsin Local Chapter of NAPW held a professional networking meeting on Dec 7th, 2011. The meeting was held at the Sheraton Milwaukee Brookfield Hotel in Brookfield WI, starting at 5:30 pm.
The Milwaukee Local Chapter members present included Robyn Olszowy, President of NAPW Milwaukee Chapter, and Creative Consultant; Sheila Barnhart, the Executive Manager of Send Out Cards; Jeannette Choate, Senior Cost Accountant with High Mark; Susan Conhartuski, a special education teacher with the West Bend School District; Dawn Drellos-Thompson, Attorney with Pellmann, Drellos and Associates, SC; Annalee Kruger, President, Care Right Inc.; Nancy Lohmiller, Chair of Graphic Design at Mount Mary College. Nancy was attending her first meeting; Renee Love, Independent Tupperware Manager; and Joanne Porter, Manager with Potawatomi Bingo Casino.
Guests in attendance included the Chapter's guest speaker Dolly of Sojourner Family Peace Center; Jasmine, attending as a guest of Susan Conhartuski; and Marilyn, attending as a guest of Joann Porter.
Members and guest gathered, signed in, placed their dinner orders and did a bit of chatting and networking.
The Chapter welcomed Nancy Lohmiller to her first meeting and presented her with the NAPW Notebook and Membership Pin. They also welcomed their guests, Dolly, a guest speaker from Sojourner Family Peace Center. They welcomed Jasmine, guest of Susan Conhartuski and Marilyn, Joann Porter's mother and guest for the evening. Nancy shared a bit about herself and what she does at Mount Mary College.
Robyn, Susan, Jeannette and Joanne shared about their experience at the former Chicago Chapter President's Midwest Conference held on November 18th. "The conference was well worth it," Robyn said. "We each came away with good information and invaluable networking connections."
The January meeting, to be held on the 4th, will be at HNI located at 16805 W Cleveland Avenue, New Berlin, WI 53151. When guests pull into the parking lot, the main address is on the left corner of the building. The topic will be "Social Media for Low Tech, Busy Business People" by Sheri Weaver and her co-worker. For those unable to attend, they can watch a webinar. Information will be sent to everyone in a separate email. Guests will order their meals from Jimmy John's, and can view the menu attached to the email with the webinar sign-in information.
A group photo was taken before dinner.
Dolly gave the chapter a great overview about the Sojurner House of Peace and what they do for battered women and children. Not only do they provide a safe haven, they also do training and follow up with everyone. Attendees presented her with the donated items from the chapter members. After the meeting the group helped carry the items out to their van and several members had additional items in their cars that they brought over.
"Thank you, everyone, for your donations," said Robyn. "And thank you to everyone who has made this past year such a success. I look forward to what the New Year will bring."
For additional information regarding the NAPW Milwaukee Local Chapter and/or NAPW please visit http://www.napw.com.
Follow NAPW on Facebook and Twitter.
###