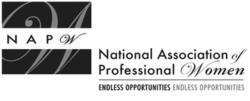 I joined NAPW because I am the only woman partner in my company and I would like to network professionally with other women...
Garden City, NY (PRWEB) September 20, 2011
The Minneapolis NAPW Chapter met for lunch at the Fort Snelling Officer's Club in St. Paul, Minnesota, Sept. 9. The club is on the historic Fort Snelling Compound (circa 1819) and serves as the main club for more than 5,000 currently assigned Army, Navy, Air Force and Marin personnel and more than 300,000 families, retirees and Veterans.
Sabra Brown kicked off the meeting, the first of 2011, by welcoming everyone and encouraging the members to introduce themselves. Members were asked to put their business card into a drawing for the TV (traveling vase) giveaway. Members were encouraged to add any brochures or give-aways they brought to the information table.
Members attending were:
Sabra Brown (president), Chief of Public Affairs for the 934th Airlift Wing. Her unit is the only Air Force Reserve wing in the state and is host to approximately 5,000 Army, Navy, Air Force and Marine Reservists as well as Air National Guard. She joined NAPW to learn more about professional women in the local community.
Joni Davis, Sales Engineer for Diversified Plastics Inc. Joni's company's principal products and services include custom plastic injecting molding. She said she joined the group because, as one of very few women in her field, she wanted to network with more women.
Kim Jacobson, Controller and co-owner of Absolute! Inc. Kim's company offers IT Consulting services specializing in small business networking services, Lawson Software services and Deltek Vision services. Kim joined NAPW for mentoring opportunities and networking.
Nancy LeMay, Certified Residential Appraiser for LeMay Appraisals. Nancy's company's principal products and services are real estate appraisals for 1-4 family homes, condominiums, townhomes and land. Nancy is a member of NAPW because she would like to get ideas from other women on how they juggle work/life issues.
Kris Pearson, Realtor Senior Advisor for Keller Williams Integrity Realty Lakes. Her specialty is helping seniors sell their homes when they have to move to a senior living community. Kris said she joined this organization for the networking and mentoring opportunities.
Sherri Roseen, Partner in the Business Advisory Services group at Froehling Anderson, Ltd. She has been in public accounting since 1985 and works with a variety of clients, including manufacturing, wholesale distribution, construction, and professional services companies.
"I joined NAPW because I am the only woman partner in my company and I would like to network professionally with other women," said Sherri.
Dawn Baumeister attended as a guest of Sabra Brown. Dawn is an independent consultant with Edge Marketing in Rosemount, Minn. She attended because she thought this might be a great opportunity to network with other women and learn about the organization.
Sabra Brown described the networking and continuing education opportunities NAPW offers and passed out a list of seminars offered by Star 12 in the upcoming months in the Twin Cities area. She also discussed the various member benefits of being a part of NAPW. Members discussed forming groups to attend upcoming training workshops.
Sabra Brown opened the floor for discussion on upcoming projects the group might want to take on and future meetings.
It was decided that the group would meet monthly at a different location to better accommodate women in many areas of the Twin Cities. The consensus of the group was that Tuesdays, Wednesdays and Thursdays work best for everyone present.
The October meeting will be a dinner cruise at the historic Afton House in Afton, Minnesota; The November meeting will be a Thanksgiving themed lunch at the Sofitel's Chez Colett in Bloomington, Minnesota; The December meeting will be a Holiday High Tea (4 p.m.) at Cedarhurst Mansion in Cottage Grove, Minnesota; The January meeting will be at the Big Brothers/Big Sisters administration offices. Joni Davis will coordinate that venue and invite "Bigs/Littles" sisters to join us for some mentoring; The group members took Kris Pearson up on her offer to host February's meeting at her Keller Williams office.
Future projects were also discussed including:
o Hosting a women's career fair
o Making a Facebook page or LinkedIn account for our local chapter
o Sponsoring a college student in the organization
o Adopting a charity like Dress for Success or a domestic violence shelter
o Volunteering as a group for a breast cancer awareness fun run/walk
Monthly chapter "TV" giveaway:
Sherri Roseen won the TV (traveling vase) filled with flowers this month. The rules of the TV were disclosed in that it must be brought back to the next meeting filled with something different (e.g. chocolates, a magazine subscription, etc.) costing between $10-15 by this month's winner.
Sabra Brown thanked everyone for coming to the first 2011 meeting and encouraged all in attendance to bring a friend to the next meeting.
For additional information regarding the NAPW Minneapolis Local Chapter and/or [NAPW please visit http://www.napw.com.
Follow NAPW on Facebook and Twitter.
###