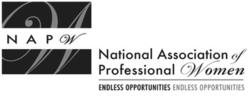 There is an exciting amount of exposure for this chapter already taking place and it will be certain that the NAPW Naples chapter will grow to be one of the best
Garden City, NY (PRWEB) October 06, 2011
The NAPW Naples Local Chapter held a pre-launch meeting on June 22nd. The meeting was held at the Jolly Cricket on 5th Avenue in downtown Naples.
Brenda Haschak and Margaret Jacobs attended and got to know each other on a professional and personal level. The members noticed the peak of summer solstice as it was still daylight when they got together around 6:30pm.
The roster showed 17 members in the chapter and attendees discussed giving a full month's notice for the other members to have ample time to schedule the next NAPW meeting into their calendars. The chapter anticipated that many of their members would be traveling and indulging in R & R time since their location is very seasonal. Most members' businesses have a tendency to be overwhelmed during this time of year and the intensity leaves little room for extracurricular activities. The group discussed the possibility of moving the meetings to early morning and it was decided that members would take a vote once there were more people in attendance.
Attendees expressed interest in hearing other people's ideas and getting others more involved to ensure success for the chapter. Margaret and Brenda look forward to more of members attending the next meeting in July to get to know each other, learn more about their businesses, sharecreative ideas for the chapter meetings, and simply making new friends.
The NAPW Naples Chapter held a second pre-launch organizational meeting at the Jolly Cricket on July 27th. The NAPW Naples Chapter President is Margaret Jacobs of Florida Home Realty and Vice President is Kena Yoke of Dax Enterprises. They both opened the meeting by welcoming everyone and briefly discussing NAPW and the benefits of their membership. Then, the members informally introduced themselves and networked over dinner at the Jolly Cricket.
"Attendance is improving each meeting," said Margaret. "And we look forward to more momentum to follow."
Despite that the chapter is still in the organizational stages, one of the newest members of NAPW, Marianne Oehser, committed to be a speaker for the official launch happening on October 20th, which will be a sensational event, not to be missed. Kena Yoke has orchestrated the remaining dates for the year and is already applying acute attention to the locations and agendas of each monthly meeting.
Margaret Jacobs infused enthusiasm and positive energy into her board members to reach the main goal of bringing this chapter to a new level. The caliber of the NAPW members who have attended speaks volumes of what needs to transpire in order to make this a successful chapter. It was decided that each member will take responsibility. Brenda Haschak of Brenda Haschak Interiors, Inc. was appointed Treasurer and Jaci Sanabria of GST PRO Productions, LLC, was designated as Chapter Secretary.
There are other opportunities open and this will be discussed at the next meeting. It was agreed to hold next month's meeting during the day to accommodate other members who were not able to attend. The location will change as well to be more centrally located for the members.
"There is an exciting amount of exposure for this chapter already taking place and it will be certain that the NAPW Naples chapter will grow to be one of the best," Margaret said.
For additional information regarding the NAPW Naples Local Chapter and/or NAPW please visit http://www.napw.com.
Follow NAPW on Facebook and Twitter.
###