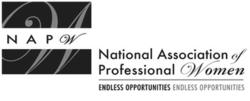 ...The Board Members have been diligently working to obtain local vendors who will provide their services to members to give them a new and improved professional image...
Garden City, NY (PRWEB) October 06, 2011
The NAPW Naples Chapter is on fire and growing significantly! Attendance "tripled" compared to the last meeting and there is major buzz in the Southwest Florida community of non-members wanting to join. This meeting proved to be an amazing event held at PURE Urban Oasis which is located in the North Naples Entertainment district of the new upscale Mercato center. General Manager, Cindie Barker did a fabulous job to accommodate the NAPW Naples Chapter with a private section, excellent service, and a special menu catered by Chef Josh. PURE's hospitality proved to be delightfully charming and the August monthly meeting was an absolute success. Vice-President, Kena Yoke warmly greeted all members and guests while President, Margaret Jacobs cheerfully confirmed attendance of everyone.
The meeting began with an introduction of current board members including Brenda Haschak, Treasury and Jaci Sanabria, Secretary. Everyone introduced themselves around the table and there was a discussion of all members being current with their dues at a national level and guests were encouraged to join. Before the main course was served, there was open communication about the chapter's goals/objectives, committees, community involvement, professional development, and upcoming meetings. Vice President, Kena Yoke did an outstanding job putting together the agenda as well as delivering it to the group.
The turnout and growth of the NAPW Naples Chapter inspired the board to expand. The chapter is pleased to announce the partnerships of the three positions of the committee that each quickly filled as a duo team. Maurica Hurley and Michelle Borders have been appointed to Directors of Fundraising while Tricia Borges and Camden Smith have been given and accepted position of Membership Directors/Ambassadors. Angelica Torres and Angel King stepped up to support Secretary/Website updates of future events.
The group's enthusiasm continued at a higher vibration when discussion centered on serving underprivileged local communities. Despite the current organizational stages of NAPW Naples Chapter, there is a major interest of giving back to the community, which is definitely one of the sole purposes of the group. This philanthropic group expressed great passion for many great causes. It appears that it won't be long when a major corporate sponsor decides to serve the community with a fundraiser influenced by the NAPW Naples Chapter. Many brilliant ideas surfaced while the group masterminded the potential of helping those less fortunate.
The last major announcement was the big launch of the NAPW Naples Chapter. Currently, this association is still in the organizational phase with one more meeting left in September (9/15/11). On October 20th, professional style consultant, Barbara King along with a chosen photographer will contribute their time to provide professional development to the group during this event. This will definitely be a beneficial and memorable experience not to be missed. Details will be finalized at the September 15th meeting. Presenting a professional profile is one of the many benefits of NAPW which the Naples local chapter will integrate into this incredible event to be held again at PURE. The NAPW Naples Chapter closed with dessert and wrapped up the meeting with ringing excitement. It was apparent that professional relationships developed among the group, but so did many new friendships.
Naples Florida Chapter held their September 15th meeting at Shula's Steak House during lunch. The meeting began with an introduction of the board members Margaret Jacobs (President), Kena Yoke (Vice President), Jaci Sanabria (Secretary), and Brenda Haschak (Treasurer). Following the introductions, the Naples Florida Chapter then introduced members and guests in attendance.
The NAPW website was discussed to educate attendees on the many benefits and features offered, as well as introduce how to become a member for the guests. Great emphasis was made that members needed to submit their information including bio, links, e-mails, and especially head shots on the website, not only for nationwide exposure, but to also use as a reference to get to know who our local chapter members are.
This conveniently transitioned into the announcement of the upcoming launch of the NAPW Naples Chapter kick-off to be held at PURE Urban Oasis at Mercado on October 20th between 6pm – 9pm with the theme title of "Putting on Your Professional Profile".
"This will definitely be the ultimate opportunity to encourage and assist fellow members who do not have a current professional profile to be given a fabulous opportunity to accomplish this," Margaret said. "The Board Members have been diligently working to obtain local vendors who will provide their services to members to give them a new and improved professional image."
General manager Cindie Barker of PURE will completely set up and reserve a private area for the NAPW Naples Chapter.
Complimentary services include Barbara King Styling, Image Designer Heather Clegg, Jewelry Designer John Spencer, Hair Designer Fatima Knapp, and Make-Up Artist to be announced. DJ Gil Blake who will cater music and set the ambiance for this special occasion. New Ground Photography and Sambroski Studios will provide headshots for women to give them a new updated professional image. Conveniently, the purpose of this event is to provide a stunning new professional image to women to use in their personal profiles on the NAPW website. Equally important, the photos can be used for other career enhancing mediums such as social media, advertising, marketing tools that are important in today's online world. Members are encouraged to invite other women who are friends or colleagues to participate in this marvelous event which will definitely be a night to remember.
Next was a discussion in regards to putting together an outreach community program from the local chapter to help a local charity called ST. Mathews House. A canned food drive will take place to support hungry families during the month of November and given to the charity. The discussion continued with what will be the upcoming agenda for the November and December meetings. During the November meeting a guest speaker, Marianne Oehser (who is also a member of the local chapter) will come to speak on "Surviving the Holiday Stress". This meeting will take place at "Shula's Steak House" restaurant from 11:30am - 1:00pm.
In December a book collection will take place to give to another charity for the "Make a Wish Foundation". A guest speaker will speak about the "Make A Wish Foundation" and how to get involved with the community outreach.
This meeting will also become the first "Holiday Party" for the Naples Chapter. Members are encouraged to bring a gift for a gift exchange for some fun for the evening. This meeting will be held at "The Mercado" at the restaurant "PURE" from 6:30pm - 8:30pm.
Members were asked to contribute their thoughts on who would speak for the upcoming meetings in the New Year. The meeting closed with everyone networking while building new friendships with excitement buzzing for the upcoming October Launch: "Putting on Your Professional Profile".
For additional information regarding the NAPW Naples Local Chapter and/or NAPW please visit http://www.napw.com.
Follow NAPW on Facebook and Twitter.
###