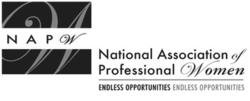 It is refreshing to see the NAPW Naples Chapter already making a difference and we are excited about what is yet to come for this powerful group of women.
Garden City, NY (PRWEB) November 16, 2011
The NAPW Naples Chapter held their official launch incorporating "Presenting a Professional Profile" that proved to be a smashing success. This event definitely delivered all the bells and whistles and received incredible rave reviews. Higher caliber activities, presentations and networking unfolded throughout the evening.
The meeting was held at PURE Urban Oasis, which is in the prestigious restaurant at the Strada Place in Mercado. Cindie Barker, General Manager, provided an unrivaled complimentary champagne reception with a fabulous menu prepared by Chef Oran Townsend and her staff. The upscale menu for the evening included their famous "Summer Salad" featuring baby arugula, sliced apple, bleu cheese crumbles, topped with candied pecans and tossed with an apple dressing. There was also an arrangement of heavy appetizers and hors d'oeurves such as PURE's signature beef and tuna rice toppers, Thai chicken skewers with peanut sauce, Ciabatta bruschetta, and mini beef wellington. Dessert proved to be a sweet ending with assorted sweet treats such as mini cheesecake and double chocolate cake. Cindie Barker, Chef Oran Townsend, and her staff truly exceeded expectations to ensure that the NAPW Naples Chapter would never forget this event.
The NAPW Naples Chapter is rapidly growing and gaining momentum. The chapter will meet once a month for members and non-members/guests by alternating each month between lunch and dinner to best accommodate a wide spectrum of schedules within the group. Each monthly meeting will include a designated guest speaker to bring insight and wisdom to those who attend, to enhance the well being and understanding of the complexities of being a woman today, or to promote charitable causes. The NAPW Naples Chapter aims to balance relationships on a whole new level, both personally and professionally. The chapter intends to raise the quality and synergy of professional networking and there are many amazing upcoming events yet to unfold for this gifted group of women.
The NAPW Naples Chapter will never forget the incredible talent and gifts that were donated for the success of the launch. Each contributor brought an amazing element to the event and added quality and value that transcended the promise of what the night held. The evening began with the locally renowned DJ Gil Blake with GST Pro DJ Production, LLC that set the evening's ambiance with an incredible array of eclectic musical entertainment. Gil continued to keep it flowing with excitement throughout the entire event. The music he provided, along with his charisma and interactive personality, made it a magical, timeless event that everyone will remember. As the members and guests arrived, they were warmly greeted by NAPW member Michelle Borders of Naples Network Services dba MyEnviro.com and Angelica Torres, guest of Kena Yoke who supports both her companies (Dax Enterprises and Island Piling, Inc.), and who organized and welcomed everyone with handwritten name tags and a raffle ticket to win exciting door prizes. Many of the women came dressed for the occasion in business attire. Some even brought a few outfits to find the right style for their professional profile photo shoot.
At the onset of the meeting, everyone was directed to the champagne reception area to prepare to meet the other contributors that made the theme "Putting on Your Professional Profile" come to life. While the champagne flowed throughout the evening, Heather Clegg of Gryphon Jewelry Designs and representative of Barbara King Styling set up a table with an exquisite arrangement of jewelry. She assisted all of the women getting ready for their photos and told them what to wear or borrow for the photo shoot. Her jewelry was gorgeous and her expertise as an image stylist helped the women understand what the trend is for the today's business woman.
John Spencer and You is a highly skilled and professional makeup and hairstylist team that provided superior service to all the photo participants. John Spencer's team includes his wife, Dawn Spencer and Christine Diaz who generously gave a crash course on professional tips for each woman's unique features and color schemes. John Spencer and You made everyone look fabulous as the women learned valuable tips to enhance their current makeup techniques.
All of the women looked stunning and resembled models getting ready for their professional profile fashion shoot. Another contributor that completed the "Putting on Your Professional Profile" package for the NAPW Naples Chapter was New Ground Photography. Alex Zankevich and Greg Zasinets were the selected photographers that served the purpose of putting it all together. New Ground Photography is a small creative photography studio doing big things in the Miami /Naples area and all around the world. New Ground Photography offers an array of photography services specializing in weddings and commercial photography. In the beginning, NAPW Naples Chapter chose Alex and Greg at New Ground Photography for the launch due to the high exceptional magazine quality that they produce and the testimonials related to their work. The NAPW Naples Chapter were fortunate to discover Alex and Greg's interactive personality engaged- the women participating to have fun as they created comfort and adventure for some of the more inhibited women in the group. Alex and Greg brought a box of props for the photo shoot that were used to create amusing entertaining shots at the end of the launch. New Ground Photography committed and demonstrated their generosity in their busy schedule to cater to launching the NAPW Naples Chapter's success.
In fact, it was announced that New Ground Photography will be having a private party at their studio for the NAPW Naples Chapter to select a photo of their choice from the launch. The date is to be announced. New Ground Photography is giving the participants a photo to be used for their personal profile on the NAPW national website as well as using the photo for all their marketing requirements. It is truly an amazing opportunity to have all of these sponsors assist NAPW Naples Chapter memorialize this major event as this is just the beginning. Once everyone got a chance to participate in the photo shoot, everyone was able to enjoy all the delicious food described earlier that Chef Oran Townsend prepared.
The NAPW Naples Chapter President, Margaret Jacobs of Florida Home Realty, Kena Yoke Vice-President of Dax Enterprises, Jaci Sanabria Secretary of GST Pro DJ Production, LLC., and Brenda Haschak Treasurer of Brenda Haschak Interiors were introduced. Margaret Jacobs discussed benefits of NAPW on a national level. Margaret Jacobs spoke of NAPW's new national spokeswoman, Star Jones. Margaret Jacobs and Jaci Sanabria had an opportunity to meet with Star Jones and will be seen nationally on television with her. Margaret Jacobs also mentioned that one of our members, Angel King was not with the group during the launch since she already committed herself to train for a triathlon event. Margaret brought up how the Naples Chapter should support her in her aspirations and goals. The NAPW provided black sleek looking journals with their logo to be distributed to the members as a gift which was passed out.
Vice President, Kena Yoke focused primarily on the NAPW Naples Chapter local level as she is the brains, mover, and shaker of orchestrating this marvelous celebration and other future projects to come. Kena Yoke emphasized how important the NAPW Naples Chapter vision is to provide an atmosphere of building and supporting while creating awareness in the community. The NAPW Naples Chapter will support charitable organizations in Collier county to promote many diverse purposes including, but not exclusive to education, economic hardships, and disadvantaged groups. Kena Yoke encouraged the chapter to support these types of underfunded organizations to allow them to grow and sustain in the community. She also communicated that NAPW Naples Chapter will be an integral part of accomplishing these goals that are instrumental in improving the surrounding communities and their livelihood.
Next, Kena Yoke introduced guest speaker, Heather Clegg of Gryphon Jewelry Designs and representing Barbara King Styling. Heather graciously gave her presentation on tips and information for today's business style for woman. She handed out a Fashionista Quiz and supplied a wealth of knowledge to the audience regarding their professional business image. She affirmed that appropriate business attire is determined by each woman's individual profession. For instance, an attorney would definitely wear something more conservative versus a woman who is involved in the jewelry design industry or a life coach. Other tips included the infamous question of whether it was acceptable to wear white shoes after Labor Day. Heather Clegg explained that although white pants were still suitable, white shoes were definitely not. Shoe clips, scarves, and accessories of mixing various metals are also in style this season along with neutrals, blacks, and navy. Heather Clegg also highlighted that red was the power color to wear while NAPW Naples Chapter member, Loyette Houck was already in style wearing her beautiful red dress. Heather Clegg gave a fantastic presentation and took more questions before directing the group to Barbara King Styling for more tips to assist women with their business style.
The next segment of the meeting focused on new members. The NAPW Naples Chapter board introduced themselves while discussing their businesses, why they joined NAPW, and what is appreciated most about being a member. Kena Yoke began by telling everyone that she serves as the Vice President of the NAPW Naples Chapter, runs two business, Dax Enterprises and Island Piling, Inc., and that she is involved with other groups in the community. She refreshingly acknowledges that she can give to the NAPW Naples Chapter since it allows her to give back to various charities of her choice as a philanthropic measure. She also approves of NAPW's higher caliber and is passionate bringing it to the local level. Margaret Jacobs, President of NAPW Naples Chapter, is a realtor with Florida Home Realty and is planning on opening her own appraisal company. She connected with the quality of what NAPW offers as well as embracing new friendships locally and nationally. Jaci Sanabria, is Vice President and Owner of GST Pro DJ Production, LLC. Her husband is DJ Blake who provided music for this special occasion. Jaci joined NAPW for networking opportunities and serves as the Secretary of NAPW Naples Chapter. Brenda Haschak owns Brenda Haschak Interiors and is NAPW Naples Chapter Treasurer. She decided to associate herself with the NAPW to create "endless opportunities" to network with other women before the chapter even launched.
More NAPW members came to the launch including Michelle Borders. She is the owner of Naples Network Services dba MyEnviro.com and recently won the Economic Council Development of Collier County for the company's invention of an affordable easy to use Internet based monitor for environmental conditions in one's home. Jocelyn Landis is a Certified Legal Nurse Consultant and owner of Elite Legal Nurse Consulting, LLC. Barbara Hoff is the Founder/President at Yes Lord World.com. She is also a poet and author and has written 2,200 poems in 9 years. Marianne Oehser is a Principal at Between Two Hearts, which specializes in relationship building and counseling. Marianne did distribute a questionnaire to help further her research of "Surviving the Holidays" for a presentation she will be giving in the next NAPW Naples Chapter meeting on November 17, 2011 at PURE during lunch from 11:30am to 1pm. Tricia Borges is the Vice President of First Class Plumbing of Florida Inc. Her company's primary products and services include plumbing and gas services. Camden Smith is the owner of DREAMFly Marketing LLC. Camden's full service firm is one of a kind in Southwest Florida offering the traditional marketing services including branding, graphic design, advertising, and marketing planning in addition to website design, SEO, and corporate promotional items (pens, pads, uniforms, etc). Julie James is connected to Prayer Minister/Certified Life Coach for Breaking Free – Christ Centered Transformation and Coaching. Julie's expertise is in prayer, deliverance, healing ministry, and life coaching. Judith Ottosen is a co-owner and consultant for Tall Poppy Real Estate, Tall Poppy Management, and owner of Gold Shadow Enterprises. Her principal products and services include real estate consulting for investors, attending to renovations, sourcing tenants, management, and reporting to clients.
Michele Sfakianos, CLNC is the owner of Medical Matters, LLC and Open Pages Publishing, LLC. Her company's main products and services include certified legal nursing consulting. Maurica Hurley is a business development partner at DREAMFly Marketing LLC. She assists Camden Smith to market solutions that weather any economic climate. Loyette Houck is the Licensing, Placement, and Recruitment Supervisor for Family Preservation Services, Inc. Her company's major products and services include services within the child welfare system. Jo Ann Forman is an owner/distributor at MXI Corporation which specializes in healthy products. Marilyn Farley, RNC, ARNP, CLNC is an experienced, highly motivated health care professional, specially trained as a Certified Legal Nurse Consultant. Her practice is an independently-owned and operated company specializing in Neonatal Intensive Care. Her consulting services on medical-related cases relate to insurance companies, other CLNC's, and law firms.
Non-members came to check out the NAPW Naples Chapter Launch and among them were Janet Betten, Donna Hands, Carol Nargi, Raquel Garci, Cindi Bombard, Natalie Capone, Dani Taverna, Debra Carlock, Cat Foster, Fatima Khokhar Knapp, Renee Porter, Kathy Cleeland, Noel Rives, Debra Martins, and Laurie Rose. It is especially noted that Debra Carlock handed out 40% off St. John clothing coupons. Laurie Rose, owner of "Olde Naples Chocolates" and personal friend of Kena Yoke, made the NAPW Naples Chapter oreo-dipped chocolate cookies decorated with an edible pink heart for all of the attendees. A strong bond developed among the attendees as women shared experiences and stories, personal goals, and wisdom. The meeting was endearing, heartfelt, professional, and unforgettable.
Afterwards, there was a drawing held for door prizes. The winners were Debra Martins who was ecstatic to win a gift certificate for the jewelry necklace giveaway, Cindy Bombard who took the prize of a $25 gift card to Barnes and Nobles, Loyette Houck who won a $25 American Express gift card. Cat Foster was given a $25 gift certificate to PF Changs. Michele Sfakianos walked away with a gift basket filled with gourmet delights. Natalie Capone won a bottle of champagne. Margaret Jacobs and Kena Yoke ended the meeting with gratitude to all who participated, and to those who donated their time and services for free and the professional excellence they provided for the NAPW Naples Chapter Launch (DJ Gil Blake, Heather Clegg representing Barbara King Styling and Gryphon Jewelry Designs, John Spencer and You makeup artistry, and New Ground Photography). The launch truly inspired dynamic energy and created buzz, attention, and memories. The launch generated a massive amount of enthusiasm for the chapter.
"It is refreshing to see the NAPW Naples Chapter already making a difference and we are excited about what is yet to come for this powerful group of women," said Margaret. "We hope to be the trend setter of success for other NAPW chapters to follow."
For additional information regarding the NAPW Naples Local Chapter and/or NAPW, please visit http://www.napw.com.
Follow NAPW on Facebook and Twitter.
###