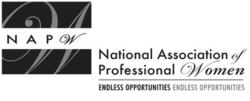 Marketing succeeds when you believe in your strengths and know how to offer them...
Garden City, NY (PRWEB) June 10, 2011
The NYC Local Chapter of NAPW Held a Meeting on May 23rd, 2011. The Chapter welcomed guest speaker Valerie Young, the Director of Media Sales at Madison Square Garden. She discussed "Successful Marketing". The meeting was held in Midtown Manhattan, in an office space designed by Newway USA, the company owned by the president of the NYC Chapter, Louise Newsome.There were twenty-three members in attendance. The next meeting will be held on June 16th, 2011.
At the first annual NAPW Networking Conference, Ivanka Trump said, "It's when you diverge from what you know and what you do well that you can get into trouble."
Youngme Moon, Senior Associate Dean at Harvard Business School, speaks in her book, Different-Escaping the Competitive Herd, about capitalizing on strengths in order to distinguish ourselves and be more successful. Marketing can be as much about HOW you market as it is WHAT you are marketing. Through her 20+ years in banking, media and currently at Madison Square Garden, Valerie Young, NAPW VIP Member, has learned that good that marketers listen to their customers, but also focus on the strengths of their business (and themselves) to be successful.
Before the meeting, members had the opportunity to meet each other over light refreshments. The atmosphere was lively, friendly and informal, giving members an opportunity to meet and wind down from their day. Louise Newsome, President of the NYC Chapter, after about half an hour, brought everyone to attention and welcomed them to the meeting. Louise discussed the First Annual NAPW Conference on April 29th, and its huge success, with half of the members at the meeting having been in attendance.
Louise also discussed the importance of members logging into their personal NAPW email at least once a week to check for messages and updates on meetings and other events, and taking the time to utilize the networking capabilities and the extensive services the site has to offer to its members.
Janine Schindler, Vice President of the NYC Chapter organized the members for speed networking, lining the woman up in two rows. Janine, with her timer and bell, had the group speed network with the person opposite them for 30 seconds each, with an exchange of business cards. This was received by the members with great enthusiasm, with lots of chatter and laughs, and also was a great way of breaking the ice for members who had not met before.
Valerie Young, Director Media Sales, began her presentation giving us an overview of her education, a major in Economics and a minor in Math and how she started at Madison Square Garden in sports and entertainment. She has also worked at CBS but predominantly at the Garden, on and off, for 15 years between having her children.
"Marketing succeeds when you believe in your strengths and know how to offer them," Valerie said.
Valerie also discussed the importance of listening to what your competition is doing, being a great listener and asking many questions. She spoke about understanding your strengths and weaknesses and strategizing with your strengths, always staying true to your Personal Brand.
Valerie also shared Madison Square Gardens' success and growth over the years, becoming not only known for its sports, but well-known in the arts and entertainment arenas as well.
The presentation ended with a group discussion among members, talking about their personal and career successes, and asking Valerie questions on issues they've had running their business or marketing within their positions in their respective companies.
The evening ended with a raffle prize. Louise asked Valerie to pick out winning raffle tickets that members had received at the beginning of the evening. Three items were raffled, a goody bag brought by Valerie from Madison Square Garden, gift certificates donated by Monica Aparicio of The Joy Of Transformation for a wellness workshop and a two hour design consultation from Louise Newsome of NewwayUSA.
Members who attended May 23rd, 2011 meeting included the President of NAPW NYC Chapter, Louise Newsome, NewwayUSA LLC, Principal, Office Design, Construction, Technology; VP NAPW NYC Chapter: Janine Schindler, Master Certified Caoch JAS Coaching and Training; Valerie Young: Director Media Sales, Madison Square Garden;
Etta Jackson: CEO, Institute Of Conscious Global Change Inc.; Crystal Backus: Associate Director Of Admissions, Brooklyn Friends School; Julie Berardelli: Holistic Health Counselor, Honey B. Nutrition; Adele Horowitz: President, Licenders; Rae Beth Maye: Brooklyn Outreach Coordinator, Women In Ministry; Maria Roman: Co/Founder, National Puerto Rican Day Parade; Florence Washington: Executive Assistant, Health and Quality Of Life, National Urban League; Aldina Dautovic: Owner, Aldina's Designs; Silvia Codony: Program Director, Contura Inc.; Joanne Sherman: Owner, Industrial Rivet and Fastener Co.; Monica Aparicio: Founder, The Joy of Transformation; Cynthia Okimoto: Owner, New York Dog Nanny; Pascale Victor: New York Housing Authority; Nancy Bruning: President , Nancercize; Breanna Sage: President/Founder, Project Lipstick Inc.; Barbara Zidovsky: Owner/Founder, BAZ Media Consultants; Jenet Levy: Real Estate Agent, Halstead Property, LLC; Renee Cooper: Assistant Chairperson Of Fashion Merchandising Management, FIT; Iram Ganju: President, IKG Global Consultants, LLC; Allegra Ressa: Vice President TD Asset Management USA, Inc.
For additional information regarding the New York City local chapter and/or [NAPW please visit http://www.napw.com.
Follow us on Facebook and Twitter.
###