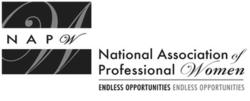 We eagerly look forward to our next meeting...
Garden City, NY (PRWEB) September 29, 2011
The North Broward County Chapter of NAPW met for dinner at Runyon's Restaurant in Coral Springs, Florida on Thursday September 15th 2011. Runyon's provided a lovely atmosphere that is renowned in the city of Coral Springs.
Camille Sage, Local Chapter President, welcomed each chapter member as they arrived with an NAPW lapel pin and a warm greeting. The meeting agenda was conveyed to the members in a casual format. The main intent was to meet each member and to give everyone an opportunity to introduce their business and personal interests. Each member had an opportunity to speak about their endeavors and exchange business cards.
Members in attendance included:
Hanna K. Norat: Biophysics Software Developer whose interests include bioinformatics, simulations, online marketing, business, and emerging technologies. Hanna is a native of Poland and shared very fascinating stories about her homeland that all enjoyed. Hanna can be reached at hnorat(at)binfosim(dot)com .
Barbara Capeletti: Barbara wears two hats as Commercial Real Estate Finance Consultant and Owner of Giving From The Art. Barbara is an avid painter and is able to showcase her work through her website, http://www.givingfromtheart.com, which is an online storefront and blog offering beautiful and unique artwork ranging from paintings to natural stone jewelry. She also uses her website to do fundraisers for a charity that she chooses each month.
Sonia Sage: Owner and Vice President at Sunlure, Inc., which specializes in helping companies identify, develop and promote their brand. Sunlure employs several tools to help businesses recognize the importance of developing a brand and focusing their promotions on their customers and prospects to increase brand awareness and productivity. Visit Sunlure, Inc. at http://www.sunlure.com.
Lena Powell: The chapter's distinguished Lena Powell has been appointed VIP Woman of the Year by the NAPW! At 80 plus years, Lena is an Independent Affiliate of Trivita, Inc., which offers natural health and wellness products. She is also very heavily involved with the Greater Deerfield Democratic Party as the former president. She is active in her community as a member of the women's ministry in her church. Visit http://www.trivita.com/1332415 for more information.
Gertrud Lulla: Owner and Manager of Seniors Helping Seniors of Fort Lauderdale. Gertrud's business offers an opportunity for seniors who are willing to give their time to be helpful to other seniors in need of non-medical assistance. The organization allows our senior citizens to be active and provides companionship, purpose and community for its participants. Visit http://www.seniorshelpingseniors.com for more information.
Camille Sage: Managing Director also of Sunlure, Inc., is instrumental in formulating and implementing Brand Awareness strategies for Sunlure's clients. Visit http://www.sunlure.com for more information. Camille is also the NAPW North Broward County Chapter President.
The chapter enjoyed interesting, lighthearted and funny conversations during dinner. Discussions included, among other things, convenience of time and location for future meetings and regular use of the local chapter page and message board. Chapter members agreed to create a Facebook page for the group. Camille Sage has been given the task of putting the page up and informing chapter members. There was also a general consensus that the chapter should be involved with, or develop, a charitable endeavor to support. This will be explored further at future meetings in order to get input from a larger number of chapter members.
The meeting was brought to a close with a heartfelt thank you from Camille Sage. Each attendee was provided with an NAPW notebook.
"We eagerly look forward to our next meeting tentatively scheduled in late October," Camille said.
For additional information regarding the NAPW North Broward Local Chapter and/or NAPW please visit http://www.napw.com.
Follow NAPW on Facebook and Twitter.
###