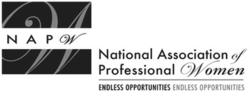 Susan Bock will be as inspiring as always on September 8th at 8:30am PDT. This is a 90-minute webinar - FREE for NAPW members, so be sure to check it out.
Garden City, NY (PRWEB) September 15, 2011
The NAPW Orange County Local Chapter held a networking meeting in Irvine, California on August 25th. This event was hosted by Reyhan Bilici, District Manager of Independent Capital Management, Inc. Reyhan spoke about the importance of timing in planning for a woman's retirement, and how procrastination can lead to diminished resources. Individuals may contact Reyhan by emailing rbilici(at)sagepointadvisor(dot)com or by calling 949-453-7660 ext. 210.
All members were invited to join Petra Petry, President of NAPW Orange County Chapter, in February 2012 on a Private Tour to Italy for ten days (from Rome-Taormina-Siracusa-Pompei-Sicily). Attendees were invited to contact Petra for details by October 12th. The deadline to purchase tickets will be October 15th. Each reservation includes airfare, hotel, restaurants, English speaking guides and taxes & transfers. Members were advised to email Petra at petra(dot)petry(at)ltcfp(dot)net or to call directly at 949-351-0347.
The chapter's second speaker was Linda Kaplan from KAPLAN Enterprises & Designs by S.I.L.K. She is a Certified Coach, Educator and Mentor. She discussed how the brain receives information from outside influences and how individuals can better understand their co-workers, family, friends, students and even themselves. This session was very interactive and educational. Members were advised to reach Linda at 714-396-4428 for more information.
Joyce Sutton, INDEPENDENT CAN Co., attended the meeting as a guest. She represents the Western Specialty Container Division at http://www.westernspecialty.com. Members were advised to call 909-923-6150 for more information.
Guests Corine Judd and Danae Thomas attended from Diverse Financial - Building & Protecting Wealth. Diverse Financial has offices in Newport Beach and they can be reached at 949-273-2807. Corine can be reached by email at cjudd(at)diversefinancial(dot)com.
The chapter also welcomed new faces to the August meeting:
Cynthia Ignatuk, Attorney at Law, specializes in Criminal Justice and can be reached at 714-222-9134. "If you know anyone that has trouble with justice - she will be the right person to go to," said Petra. She also was the lucky winner of the meeting's giveaway prize, sponsored by Mary Kay.
Maria Fontaine is a Send Out Cards representative. Send Out Cards, or SOC, is a great way to organize one's contact list of family, friends and business associates. Clients will never forget another birthday, flyer, invite or a special occasion ever again. SOC sends an automatic reminder.
"Please check out my site and you can take a test run by sending out two cards on me. Send a card to any person and/or send a card to yourself. Please feel free to call me at anytime 562 942-7031 at home or by cell at 562 858-3432," said Maria.
Maria is also a star consultant with Scentsy. Visit https://Fontaine.Scentsy.us for information on Wickless Flameless Candles. Or call 310-669-5970.
Deepa Gorajia, from APEX Window Decor, specializes in blinds, shutters, drapery, shades and much more. Visit http://www.WppexWindowDecor.com or call 714-531-1266 for more information.
Rochelle I. Snyder, Attorney at Law was also in attendance. Visit http://www.rsnyderlaw.com or call 714-442-1541.
"Upcoming events for the Orange County Chapter include Susan Bock's special edition webinar: "Happiness is an inside job!" - Inspiring, Transforming, Engergizing.
"Susan Bock will be as inspiring as always on September 8th at 8:30am PDT. This is a 90-minute webinar - freefor NAPW members, so be sure to check it out," Petra said. "You have one life to live and it can be great, or not. The choice is yours. Does that statement make you cringe? Feel uncomfortable?" Susan asked.
In her 90-minute webinar, members will become aware that they are the CEOs of their lives. They will learn the actions they can take to be in charge of their futures.
Send Susan an email to sign up for this webinar at Susan(at)SusanBock(dot)com.
For additional information regarding the NAPW Orange County Local Chapter and/or NAPW please visit http://www.napw.com.
Follow NAPW on Facebook and Twitter.
###