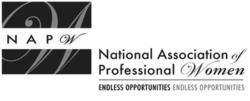 NAPW members enjoy a wealth of resources and services dedicated to the enhancement, empowerment and promotion of their careers
Garden City, NY (PRWEB) November 19, 2011
The Orange County NAPW Chapter met for professional women's networking on November 24th with Local Chapter President Petra Petry, at the Italian restaurant, Barolo, in Tustin, CA. It was a perfect venue to enjoy a meal and get acquainted with new members. The National Association of Professional Women – OC Chapter meeting was represented by:
Petra Petry, PhD is a Long Term Care Specialist, licensed in CA, IL and FL. Petra is affiliated with the largest brokerage "LTC Financial Partners" - specialized in LTC insurance Nationwide. Long Term Care insurance is not just for elderly. Contact: 949-351-0347 or visit petrapetry.ltcfp.com.
Jennifer Ackermann is from Premier Designs, an Independent High Fashion Jeweler. Jennifer was this meeting's amazing speaker and she shared the secrets on how to balance jewelry and professional dress code with tips on how to get ready faster in the morning. She coached the chapter on how to make quick decisions with outfits and jewelry. Serving Sharing & Caring – the Premier Way! She offers in home fashion shows holiday shopping services, fundraising opportunities, themed Parties and fantastic personalized service. Contact: 949-701-5960 or at premierdesigns.com.
DANISA – Clothes, Bags, and Shoes imported from Italy with divine show by Dany and Isabel Salaci – direct contact for showrooms and exclusive boutiques. Reach Dany at 310-291-9655 and Isabel at 562- 852-1096 for direct orders or fashion show appointments.
Linda Kaplan from KAPLAN ENTERPRISES designs by S.I.L.K. is a certified coach, educator and mentor. Linda is available for lecture series coaching on how to understand coworkers, family, friends and students, and how to utilize their talents, qualities and expertise in all aspects of life. Reach Linda at 714-396-4428.
Susan Bock is a Personal Consultant and Professional Speaker. "Happiness is an Inside Job!" she said. In a one-on-one setting, she guides women through the halls of uncertainty toward the successful future they are destined to create. Susan will be our next event speaker and she also offered space for the upcoming meetings in Huntington Beach. Susan can be reached at 714-847-1556.
Judy Morgan – CA Licensed Electrologist - Electrolysis is the process of permanently removing unwanted hair. In this process, a metal filament called a probe, that is as thin as a hair, is slid into each unwanted hair follicle. This is done with the utmost care so the probe does not puncture the skin. Upon insertion, a very low electric current is delivered to the follicle through the probe, which causes localized damage to the cell that produces the hair. Most patrons feel only a slight tingling sensation. Electrolysis has the best results in terms of longevity and is the only method of permanent hair removal recognized by the FDA. Judy is new to the area and although she works from Amber's Beauty, she is independent. Judy can be reached at 949-230-1717 or visit at flashelectrology.com.
Christel Vilogron – IEBP – Import Export Best Practices – Protecting Revenue Through Trade Compliance. Christel can be reached at 888-234-6862 or 949-633-0159 christelv(at)cgvglobal(dot)com or by visiting at cgvglobal.com.
Carol Cuoco – Landscape Design by Carol, LLC - Landscape Design by Carol offers residential landscape design and garden consultation services throughout Orange County, California. Services include: Detailed Planting Plans for Single-Family Dwellings Conceptual Design for Landscape Elements Such as Patios, Fireplaces, Walkways, Residential Garden Consultations, Plant Selections/Nursery Walks, Vegetable Beds and Container Planting Designs. 949-698-8447 or visit at landscapedesignbycarol.com.
Olga Castillo is a new member from Keller & Williams. Her direct phone number is 626-407-6267 or she can be reached by visiting http://www.olgacastillo.com. Olga was very lucky to win the $50 gift certificate to the Italian Restaurant Il Barolo.
Tracey L. Clark is an Information Technology Professional, Senior Programmer, Business Systems Analyst, Project Leader. She can be reached at 714-863-9769.
Dianne DeMille, Ph.D. Founder & Board Member of Global Educational Technologies – a nonprofit corporation. She can be reached at ddemille(at)global-educational-technologies(dot)org .
Colleen Morrill from Realty ONE Group can be reached at 949-735-8318 or by visiting at MorrillREalEstateGroup.com.
Donna Magner is the CEO of a1Tonertech.com that supplies Printers, Copiers, Fax/Multifunction, Warranty Renewals, Service and Repairs. Her company supplies all major brands. Contact: 714-998-4211 or 866-507-8324 or visit a1tonertech.com.
Sylvia Adler representing USANA – Health sciences as an Independent Associate and Distributor – nutritionals you can trust. Contact 949-232-8742 or visit sylviaadler.usana.com.
Cynthia Ignatuk – Attorney at Law, contact her by visiting CriminalLawyerOC.Com.
Olga A. Garate - President of "SoCalCRMAdvisors" specialized in CRM selection, Project Management, Configuration and Customization, Data Migration, User Adoption and CRM integration - contact her by visiting socalcrm.com
Denise L'Hommedieu is from DK Digital Arts, a service for promotional marketing and sourcing with over 20 years of experience in sales & marketing. Denise assists clients with Print/WEB design, SEO and promotional products. Contact: 949-374-0835 or dkdigitalarts.com .
Laura Bazerman-Swanson from Source One payment solutions which offers credit card merchant accounts, ATM, payroll services and gift cards. Laura can be reached directly 949-278-3574 or by visiting sourceoneps.com.
Cathy Smith Vice President from DATA BILL which supplies customized printing and mailing solutions for sales and marketing. Contact 888-638-1002 or visit databill.com.
The National Association of Professional Women (NAPW) is an exclusive network for professional women to connect, learn and inspire.
"NAPW members enjoy a wealth of resources and services dedicated to the enhancement, empowerment and promotion of their careers," said Petra.
For additional information regarding the NAPW Orange County Local Chapter and/or NAPW please visit http://www.napw.com.
Follow NAPW on Facebook and Twitter.
###