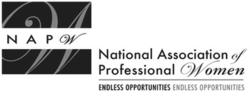 We have the opportunity to reach into the resources and knowledge our chapter members represent and offer anyone who comes to our meetings, or interacts with us a chance to grow and enrich their business
Garden City, NY & Pittsburgh, PA (Vocus/PRWEB) April 15, 2011
The Pittsburgh local chapter of the National Association of Professional Women (NAPW) celebrated its first anniversary on March 7, 2011. The growing chapter is currently represented by approximately 175 women across various business disciplines of all levels of experience in the greater Pittsburgh, Pennsylvania region.
"We have the opportunity to reach into the resources and wealth of knowledge our chapter members represent and offer anyone who comes to our meetings, or interacts with us through social media or the national website, a chance to grow, enrich their business profile, meet valuable business contacts and interact through both social and commercial means to build their professional profile. There are many ways to be a 'success' within our chapter and some of those ways are represented at each meeting or social gathering we have," says Susan S. Bosco, Chapter President.
The NAPW Pittsburgh chapter meets the third Thursday of every month at the Sheraton Station Square in Pittsburgh, Pennsylvania at 6:00 pm. The chapter will celebrate its anniversary with a Social Mixer at Houlihan's restaurant and bar at Station Square on Thursday, April 21st at 5:30 pm. The event is open to members, guests and non-members interested in NAPW.
About the National Association of Professional Women (NAPW)
The National Association of Professional Women is the fastest growing and most recognized women's association in the nation. Accomplished members, from businesses large and small, work each day to achieve powerful business growth and professional career development through interactive online networking forums, local face-to-face chapter meetings, access to local and regional seminars, webinars, podcasts, keynote speakers and other educational tools. NAPW is an advanced forum for like-minded professional women to gain exposure and to create innovative social and business relationships.
For additional information regarding the Pittsburgh local chapter and/or NAPW please visit http://www.napw.com.
Follow us on Facebook and Twitter.
###