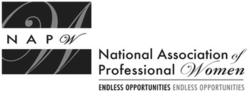 I joined NAPW for the networking opportunities that the organization provides
Garden City, NY (PRWEB) May 15, 2011
The Raleigh-Durham Chapter of NAPW met on April 19, 2011 at Caribou Coffee in Raleigh. In attendance at this meeting was Anjanette Saunders, Sandi King, Samantha McAuliffe, Annie Therrien, Foresa Walker, Jean Barnes, Danielle Baker and Susan Ross. The group also welcomed first-time attendees Foresa, Jean, Danielle, and Susan.
Ms. Foresa Walker is an Accounting/HR Specialist for The Arc of North Carolina. She also serves as a pro-literacy council tutor, resume writer, career planner, motivator, and diversity and sexual harassment trainer. Foresa joined NAPW in hopes of expanding her business and professional network and for an opportunity to make a difference in her community.
Ms. Jean Barnes is an Administrative Coordinator for Talecris Biotherapeutics. In this role she supervises 30 administrative associates, arranges site events, teambuilding activities, and assists in setting team goals. Jean is working to start her own business which would assist clients with behavioral, mental, and developmental disabilities. To learn more about her business visit http://www.zabsgrouphome.com.
Ms. Danielle Baker is the owner of Bakers' Southern Traditions, Inc. In addition to being the bookkeeper for the family farm, Danielle runs her own business which produces delicious peanut snacks. Bakers' Southern Traditions, Inc. is five years old and employs only women. You can find their snacks in The Meat House in Raleigh, Cary, and Chapel Hill as well as at the Blue Moon Gift Shop in Wilmington, and the Cotton Company in Wake Forrest.
Ms. Susan Ross is a Research Laboratory Supervisory for The Hamner Institutes for Health Sciences. Her labs research in vivo and invitro toxicology. "I joined NAPW for the networking opportunities that the organization provides," she said.
The meeting opened with each member briefly introducing themselves. The group discussed research conducted by Sandi King and Samantha McAuliffe regarding meeting topics. Samantha and Sandi read chapter pages and minutes from local chapters across the country and compiled a list of topics from other chapters' agendas. Topic ideas included, stress management, women's health and wellness, local business owners, networking workshops, and marketing workshops. Many chapters also highlight their members by allowing them to speak on special topics or their business or profession. Community outreach is also a popular chapter activity.
The group brainstormed about which topics the Raleigh/Durham Chapter will undertake. Attendees expressed interest in having informational tables at local events to publicize the Raleigh/Durham chapter and NAPW as a whole. This effort will inform women about NAPW and increase membership within the local chapter. Jean Barnes and Anji Saunders volunteered to research upcoming local events that the chapter could attend. Samantha McAuliffe will contact the NAPW National Director of Local Chapters to inquire about promotional information and membership brochures that could be distributed at these events.
The women also expressed interest in participating in community outreach efforts, specifically to adolescent girls, encouraging them to pursue professional careers. This could be done through informational sessions, providing them with interview skills, etiquette classes, etc. The group discussed topics for upcoming meetings. It was decided that the research conducted by Anji and Jean would be reviewed during the May meeting. The group plans to identify an event and sponsor an informational booth about NAPW. In June, Anji Saunders will conduct a workshop on cosmetics and make-up application. Foresa Walker volunteered to head up a committee which will research meeting topics and identify special speakers.
All members were encouraged to contact Samantha with any special interests they might have and if they would like to serve in a particular capacity.
There being no further business the meeting was adjourned.
###