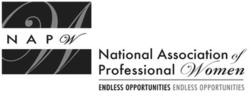 I joined NAPW to network with other women outside my field, as well as to build friendships with empowered women...
Garden City, NY (PRWEB) June 29, 2011
The Raleigh/Durham Chapter of NAPW met on June 21, 2011 at the Cisco Systems Campus located in Research Triangle Park (RTP), NC. In attendance at this meeting were, Sandi King, Samantha McAuliffe, Annie Therrien, Randi Stewman, Nancy T. Nguyen, Anji Saunders, Sarah C. Williams, Kimmerly Payton, Marilou Seavey, Gail Hayes, and Janet Weber. This was the first meeting for Sarah, Kimmerly, Marilou, Gail, and Janet.
Ms. Sarah C. Williams is an INT Sales Planning Manager at Burt's Bees. She has an undergraduate degree in Chemical Engineering. She has two years of experience in R&D in the dental division for 3M in St. Paul, MN. Ms. Williams has worked for three years at Target Corporation in production services supporting quality requirements and social compliance for private label manufacturing in Asia, Europe, and the Middle East. She has been with Burt's Bees for over five years in various roles including outsource management, purchasing, project management, sales finance, and sales planning. Ms. Williams has joined NAPW to expand her professional network within the Triangle and to have some exposure to other industries.
Ms. Kimmerly Payton is an Annual Giving Coordinator for UNC-TV. She coordinates premium "thank you" gifts for on-air fundraising. Ms. Kimmerly has joined NAPW to expand her professional network and develop teamwork and leadership skills.
Ms. Marilou Seavey is the Trainer and Executive Coach for Mindbridge Trainings. She has over thirty years of experience as an owner of a small business presenting personal communication skills to the public and private sectors. She teaches people how information is processed. Ms. Seavey joined NAPW in hopes of expanding her professional network and an opportunity to connect with other interesting women.
Dr. Gail Hayes is a self-employed author, speaker, trainer, and consultant. Her extensive career has included stints as a volunteer manager, law enforcement officer, college professor, firefighter, emergency medical technician, and an image/career consultant. She was the first black woman to be hired as a police officer in Chapel Hill, NC. Since the NAPW Raleigh/Durham chapter contacted Ms. Hayes, she thought it would be a great opportunity to join.
Ms. Janet Weber is a Technology Manager at Wachovia/Wells Fargo. She has over 30 years of experience in Information Technology in various engineering roles. Ms. Weber graduated from Duke engineering in 1981, and specialized in Unix/Linux technologies and web interfaces. She was hired out of college by National Security Agency and traveled the world implementing Electronic Counter Measures for the military (ships, submarines, planes) for fifteen years. Ms. Weber moved back to NC fifteen years ago working for Progress Energy for four years, then Wachovia (Wells Fargo) for over eleven years managing and engineering solutions for customers to interface via web with the company.
"I joined NAPW to network with other women outside my field, as well as to build friendships with empowered women," said Janet. "I also hope to develop time management skills and methods to deal with stress."
The meeting opened with Samantha welcoming new members, and each member gave a brief introduction of themselves. A brief mention of the different committees was touched upon: Speaker Selection Committee, Social Committee, Community Outreach Committee, and Membership Committee. Samantha stated that she was going to send an email shortly with the different committees and members interested in heading each committee.
Nancy spoke briefly about the new NAPW Raleigh/Durham Facebook page, which is now up and running. This page will be used to keep in touch with all members and updates within the Chapter. In addition, Nancy volunteered to create LinkedIn and Twitter pages as well to promote the NAPW Raleigh/Durham Chapter.
Samantha introduced the meeting's presenter, Anji Saunders, who has over twenty years of experience in skin care and is currently working for Chanel. Anji began by telling us that skin hydration is very important and that using a "system" is the best way to take care of your skin (ie. using a day moisturizer, night moisturizer, and eye cream). To demonstrate how important skin hydration is, Anji put a drop of Lancome's Genifique serum on everyone's hand. After a few minutes, it was apparent that the skin appeared lighter and more vibrant due to the replenished skin's cell moisture. Serums are commonly used to hydrate the cells in order to avoid wrinkles, and for skin clarity and density. In addition, Anji suggested using a glycolic scrub or mask twice a week to clean deep into the pores and remove any surface dirt. Using a toner after a makeup remover will go into the pores and remove any remaining makeup residue.
Considering it is summer, Anji loves using a flat bronzer. If shimmer is needed, it can be added afterwards to the flat bronzer. Anji showed the 2011 summer colors which are raspberry peaches and corral. Anji gave a tip that by using transluscent powder underneath the eyes, can avoid mascara and other makeup runoff throughout the day.
Anji took a volunteer, Samantha, to demonstrate how to apply some of the products. Anji used Pink éclat makeup primer on Samantha, which is an excellent product to conceal blue and purple tones especially underneath the eyes as well as give additional illumination. For a natural look, smearing eyeliner with your finger is a good application method. Finally, if you do not know what type of mascara would benefit your lashes the most, ask for a mascara consultation.
Samantha thanked Anji for presenting such valuable tips regarding skin care.
Currently, there is no speaker lined up for the July 19 meeting. Vanessa is researching options. There being no further business, the meeting was adjourned.
For additional information regarding the Raleigh/Durham local chapter and/or [NAPW please visit http://www.napw.com.
Follow us on Facebook and Twitter.
###