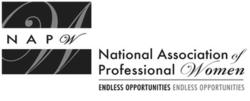 Once again, we not only had great get togethers during August that offered excellent networking opportunities, but also learned valuable information from a very special speaker
Garden City, NY (PRWEB) September 15, 2011
The Sacramento Chapter has two meetings, both a lunch and a dinner meeting, each month in order to accommodate the busy schedules of the members. While both meetings have the same agenda and speaker, people often elect to attend both meetings since the networking will be different each time. For the sake of simplicity, both meetings have been folded into one in these minutes.
June Azevedo opened the lunch meeting and presented the NAPW binders that had been prepared and used at the July 20th community event. The binders contained scanned pages from the NAPW website, making it easy to see how the website works and to view the different benefits. Rebecca Ward then volunteered to film the individual introductions, since Sharon Darrow had not yet arrived from the airport with the speaker, Petra Petry.
Marcia Remington, a guest who first learned about NAPW at the event on July 20th, is currently looking for a new position. She has several years experience in customer service and data entry, and is looking for a position as an administrative assistant. She just finished a course at Heald College on business office skills, including Microsoft Office applications and some accounting.
Jamie Koverman, also attending for the first time after learning about the NAPW at the July 20th event, is the owner of Belegant Pet, a grooming salon that is definitely "a cut above"! She has been in the business for almost 20 years and is looking to expand. She does all types of animals in her shop, and even offers boarding.
Caroline Lafler, attending for the second time as a guest, was in commercial real estate for about 14 years, but became involved in a nutrition business a few months ago. She not only loves the product but also lost 20 pounds and dropped 2 sizes! She brought vouchers for everyone to bring to the Wellness Depot, located in Roseville.
Linda Melody, with PrePaid Legal Services, said that while we have all heard about identity theft most do not take it very seriously. Last year 10 million Americans had their identities stolen, but PrePaid Legal Services is the only plan with a complete restoration service that covers all five areas of identity theft.
Carol Siegner is a travel professional doing cruises, land trips, and groups. She is just now expanding her expertise to work with seniors and taking classes about their special needs and requirements. She brought some flyers on some trips planned for next year.
Rebecca Ward is an interior designer, and owner of Rebecca Ward Design.She does both residential and commercial design, and can work on remodels, new construction, offices, and any other design needs you have.
Amanda Rawls is a 15-year mortgage veteran, feeling new every day with the changes that are taking place in the industry. She specializes in residential lending, helping first time buyers, buyers moving up, and refinancing. She is building a business based on referrals, so invited anyone interested in purchasing or finding out whether or not they can qualify to get in touch.
Julie AlHuneidi is the owner of A Nu You by Julie, offering products and services that help change the way you age. Clients feel younger, longer, and look younger, longer, with Julie!
Susan Harke is both a mobile notary and a CPA.She helps people with their taxes, and is happy to travel to assist people who are in a nursing home or simply not able to travel. She also helps clients who have problems with the IRS or Franchise Tax Board.
June Azevedo is the owner of Azevedo Print & Design. She can take your website and match it to your printing, or match your printing to your website. She is happy to help you in any way possible with all your printing and design needs.
Sharon Darrow, owner of Travel ID Cards, can make plastic ID or security cards of any cards. She does cards and badges for companies, organizations, sports teams, or any type of group. They produce full color custom cards with or without photos, one or two sided. In addition, Travel ID Cards has their own unique travel cards for children, teens, adults and pets.
Jacinta Dickens, works as a hypnotherapist and does energy healing. She is holding a wellness clinic for people who are either low on funds or would like a low-cost opportunity to try out hypnotherapy. She is looking for people who are looking for a wonderful, positive change in their lives, including weight loss, smoking cessation, anger management, phobias, or anything that they would like to put out of their lives.
Sharon Donat is a licensed Farmers agent but is currently working as a customer service representative since she elected to take early Social Security retirement. She is spending a lot of her time with her 91-year old mother and her 6-year old, mildly autistic, grandson. Sharon also has four grand-daughters, two of whom were just recently in Sacramento with her.
Colene Sawyer-Schlaepfer wrote a book, Fishing by Moonlight, which came out of bad news. She said her second husband decided he wanted to live alone and she had to go. Colene was devastated, particularly since she was a marriage counselor! With all her training, if she couldn't get it right, she had to figure out what was wrong. Her book is the result of many workshops and much research, designed to help others learn more about themselves and their relationships.
Marcia Rosenstein recently retired from the California Department of Public Health, where she worked for 26 years. She likes to travel and was a volunteer with the Peace Corps in Malaysia. Marcia got married for the first time at 50, and wants women to know that it is possible to find someone and have a happy marriage even if you stay single for many years!
Kathryn Carr is a financial adviser with the World Financial Group, and a grandmother of four girls. She was a teacher in Colorado, where she became acquainted with World Financial. When she moved to California she was able to bring her connections to World Financial with her, and has an office in Lodi. Kathy also teaches in college, so is a very busy lady!
Amber DeAnn, whose business is Mind Emotion Harmony, helps people conquer stress and gain freedom, so they can move forward in their lives. She is a DeStress Coach, first helping people identify the causes of stress in their lives and then eliminating it. Amber is also a self-help author of 3 books, which show people how to use her techniques and do the process themselves, does public speaking, and now also does essential oil massage.
Diana Borroel is a financial advisor withthe Principal Financial Group and has 23 years experience in the industry. Diana's goal is to either help people create assets or protect their assets. She takes people through a process so that she can help them identify where they are currently and what their goals are. They then create a plan to help them accomplish those goals.
The chapter welcomed speaker Petra Petry, who is not only an expert on Long Term Care planning, but also the new President of the Orange County Chapter of the NAPW. Petra is affiliated with the largest brokerage, nationwide, that specializes only in Long Term Care. Her experience has taught her that the two biggest problems that people have with Long Term Care are procrastination and fear of looking into the future need for benefits. People are afraid that the coverage will be expensive, but she explained that it is much more reasonable than most people think, and far less expensive than not having the coverage. It is very inexpensive for younger people, but available right up to age 85. Many people think that Medicare will cover their Long Term Care needs, but it actually will only pay for the first 20 days, leaving the individual to pick up the costs for the rest. Petra then covered many different aspects about coverage, including deductibles, purchasing as a couple, and the various ways that claims can be paid. In spite of covering so many aspects of Long Term Care during her talk, it was apparent that there was much more to learn. Petra invited anyone interested to follow up with her by phone or email.
"Once again, we not only had great get togethers during August that offered excellent networking opportunities, but also learned valuable information from a very special speaker!" Sharon said.
For additional information regarding the NAPW Sacramento Local Chapter and/or [NAPW please visit http://www.napw.com.
Follow NAPW on Facebook and Twitter.
###