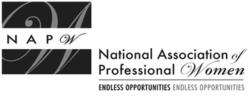 I am interested in working with women in career and business transition, helping them to navigate the workforce and beyond with goal focused success strategies
Garden City, NY (PRWEB) July 01, 2011
NAPW Sarasota Held a Chapter Meeting on June 22, 2011 to welcome new members and discuss how to utilize the NAPW website for optimal networking.
Chapter President and Owner/Coach of Restyled Life, Susanne Daniels, opened the meeting by welcoming everyone, including two new members, Laurin Ripley and Betsy Zackrison to their first chapter meeting.
Susanne suggested that members update and attach their profiles to the local chapter. She told the group about the NAPW website, and encouraged all to explore the local chapter page, message center, and community wall. She reminded members that the website is full of useful tools and resources such as, seminars, discounts, online networking, and member marketplace and recommended that they use member access to their full benefit. She invited members to consider being a guest speaker or to recommend a speaker for future meetings. She gave a special thank you to The Dattoli Cancer Center Foundation for the use of the Education Center and Ron Koster Library for the NAPW Sarasota Chapter meetings. She then shared her experiences from the NAPW National Conference held at the Waldorf Astoria on April 29. Susanne then spoke about the NAPW Chapter objectives and how they will reflect and support the brand promise of NAPW, to be a trusted place for professional women to Connect, Learn, Grow and Inspire.
Patrice Say, member, is originally from New England. Patrice moved to Sarasota 26 years ago when an opportunity became available with Kelly Services. Patrice received her Bachelor's degree from University of Florida and her area of study was Human Resources and Customer Service. She is a member of the Society for Human Resource Management and is a Certified Senior Professional in Human Resources SPHR. She lives with her husband and two daughters in Sarasota. Patrice has Human Resources, Marketing, and Management Training background. She currently is a principal owner of Aspire Partners, whose principal products and services include hands on business consulting. She provided expert advice on business practices, time management, profit and loss analysis per department, staffing suggestions, job descriptions and personal development seminars, and project management. When she is not devoting time to her work, she enjoys traveling, boating, golf, and reading.
Dr. Kennedy has a Chiropractic practice in Sarasota, Kennedy Chiropractic. She told the group that her greatest pleasure is in helping people create and maintain health. She uses her practice to support local Hospice. She shared that she and each of her late parents gained so much from their experience with Hospice staff that she has chosen to waive the initial visit fee (which is the most costly visit for patients) for a $25.00 donation to Hospice. Dr. Kennedy shared that this outreach to benefit hospice and patients health is an expression of her belief that "through giving, we get back".
Rev. Jacquie Riker is the Minister and Director of Community Care Program at the Center for Positive Living in Sarasota. Her ministry includes weddings, baby blessings, memorial ceremonies, house blessings and women's circles. She studied Vision, Creativity and Intuition training with Dr's Caroline Myss and C. Norman Shealey. Jacquie certified in visionary cranio-sacral work has a private healing arts practice.
Giovanna McGrath is aHealthcare Business Consultant works with local physician practices to create success and promote health awareness. She works with local children's charity groups and foundations. She said she loves bringing great people together.
Linda Cooper is a Retail Account Executive with the Herald Tribune Media Group and the author of She Ain't My Sister. Linda is the account executive for Sarasota downtown advertising with the largest newspaper in the New York Times Regional Media Group. Her book: She Ain't My Sister, is a memoir based on her childhood as an adoptee, published in February. She invited the group to attend her book signing at the Bookstore One, on July 19th 6-8 pm
Kathryn G. Stephens, Image Consultant, works with who she calls "Middle Women", the working women of Sarasota who may not have the money or time to devote to their image. She works with a person's outside beauty, helping to create an image on the outside that builds confidence on the inside. She also teaches etiquette.
Laurin Ripley is a member and works with The Women's Resource Center of Sarasota County as a Project Manager. Laurin develops, schedules, and supervises educational and training programs and manages grant-funded programs for women. She calls this her retirement job, which means she does it because she loves it.
Betsy Zackrison is a member, a Business Success Coach with Coaching for Success, and a community volunteer. She volunteers at The Women's Resource Center in Sarasota and in Venice. In Sarasota, she works with the women in the Returnship Program. She has a workshop called Becoming More Assertive and Confident in Your Job Search. She helps women become better in their job interviews so they will get the job and have a better life.
Sandy McCourtney is a Realtor and former chair of the Sarasota Board of Realtors. She shared that she wants to be part of a group who support one another. She has been a member of the Sarasota Department of Education and a volunteer with Habitat for Humanity. Her community focus involves bullying issues and children with addictions.
Susanne Daniels is a member and personal development coach and business consultant with Restyled Life. Her background and education in human resources, training and employee relations transitioned into her new restyled life as a transition and career coach, trainer and consultant.
"I am interested in working with women in career and business transition, helping them to navigate the workforce and beyond with goal focused success strategies," she said. She volunteers time presenting workshops at the Sarasota County Women's Resource Center that provide skills needed by women seeking to reenter the workforce. She is leading a workshop at the WRC on July 28 titled Build Your Own Website. She loves being by the water, walking early in the morning and traveling.
For additional information regarding the Sarasota local chapter and/or [NAPW please visit http://www.napw.com.
Follow us on Facebook and Twitter.
###