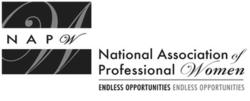 It was just a joy to meet and discuss our excitement in re-launching our chapter
Garden City, NY (PRWEB) December 23, 2011
The National Association of Professional Women's South Atlanta Local Chapter, in conjunction with the North Atlanta Local Chapter, hosted the NAPW Atlanta Holiday Party at Double Zero Napoletano in Sandy Springs, Georgia, on Wednesday, December 7th, 2011. Nancy Delgadillo, South Atlanta Chapter President and Kymberlee Dougherty Tysk, North Atlanta Chapter President, kicked off the meeting by welcoming everyone with appetizers, compliments of the NAPW. Each president spoke briefly about the North and South Atlanta Chapters and their plans for moving forward as a team in 2012.
The event had over eighty NAPW members and guests in attendance. Many members there were attending their first NAPW meeting. It was a great opportunity for them to be welcomed into the community of professional women, to network, and to become involved in either or both the South and North Atlanta Chapters.
South Atlanta Chapter members in attendance included Anne Sciarrone, Owner/Architect at H. Anne Blakelyl Sciarrone Architecture, LLC.
"It was just a joy to meet and discuss our excitement in re-launching our chapter," Anne said.
Marie Giarniero, Independent Chocolatier for Dove Chocolate Discoveries, also expressed great excitement about launching the South Atlanta Chapter. Marie joined the group at the EXPO last October.
Angela Williams, President of DRAGA Laboratories, LLC, was very gracious in bringing everyone a holiday gift and sample of her company's products which include hair care, skin care and spa/body care goods.
Lynn Anderson, owner of Coaching 4 Abundance, LLC, was welcomed. Lynn has been an excellent addition to membership within the Atlanta Chapters.
Ruby Dawsey, Independent Art Consultant for Ethnic Expressions, is a new member of the chapter, who joined all the way from Columbus, Georgia.
Shanai Dominique, Celebrity Hair and Makeup Artist at SD Luxuri Salon, was very kind as to offer her space for future meetings and events.
The South Atlanta Chapter will host its first meeting of 2012 on Thursday, January 12th. Meeting information will be posted on the Chapter Page of the NAPW site for future reference.
"We all enjoyed this great evening of fun, networking, and holiday spirit," Nancy said. "This was a great way to meet peers and other great women in the Atlanta area who are members of our association."
"Some members participated in a gift exchange and we all ate, networked and had a great night," said Kymberlee.
For additional information regarding the NAPW South Atlanta Local Chapter and/or NAPW, please visit http://www.napw.com.
Follow NAPW on [Facebook and Twitter.
###