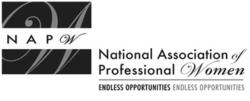 Members agreed that our main focus will be networking, mentoring, and supporting our community. Also, they were so excited that this could be considered 'me time' when it comes to us... having very active and busy schedules.
Garden City, NY (PRWEB) October 05, 2011
The Waldorf Chapter of NAPW hosted its kick off meeting on September 31st, 2011 at the Old Country Buffet located in Waldorf, Maryland. The members discussed NAPW conferences, future guest speakers, best day of the month and time to meet and supporting our community.
Tammy L.S. Wright, President, opened the meeting by welcoming everyone, then briefly speaking about the proposed vision of NAPW and the goals for the Waldorf, Maryland Chapter. She also introduced herself and provided a brief overview about her business.
"Members agreed that our main focus will be networking, mentoring, and supporting our community. Also, they were so excited that this could be considered as "me time" when it comes to us, bearing the role of mother, sister, grandmother, wife, etc, having very active and busy schedules," said Tammy L.S. Wright, Chapter President.
Tammy is also co-founder and co-owner of Anointed Body of Christ (ABC) Wellness & Fitness Center located on Crain Highway in Waldorf, Maryland. They offer personal training, boot camps, group exercise classes, and are a big advocate for supporting the community. She provided an example of how ABC Wellness & Fitness Center provides non-perishable food to an all men's shelter in Waldorf, Maryland. This is something they've done for the past two years.
Louise Kloiber was in attendance. She is a co-owner of Empire Graphics located on Crain Highway in Waldorf, Maryland. The business is 10 years old and they've done business for several companies including ABC Wellness & Fitness Center. They've just received their certification for Ultra Violet, meaning they can make their own signs for building versus purchasing and putting them together.
Carol Davis was in attendance. She has been employed by the Charles County Sheriff's Office, in Southern Maryland, for more than eleven years as a civilian in the Planning & Accreditation Office. Their office facilitates all agency policies and handles the accreditation process. She loves NAPW and proudly includes the logo in her emails.
Sandra Young attended as a guest. She applied for membership in NAPW and is patiently waiting to receive her telephone interview so she'll be able to join. She just started a cleaning business with her husband and is looking forward to networking and mentorship. Also, she is a Major servicing in the D.C. Army National Guard.
With this being the first meeting, the group spent a lot of time getting to know one another and discussing their vision for the Waldorf Chapter. The group was very excited with the vision and goals of the Waldorf Chapter. Members expressed how happy they are to have a Chapter in Waldorf, Maryland and how it has exceeded their expectations prior to attending.
Tammy suggested that the group select cancer awareness for the community-based effort and Carol agreed.
Thereafter, Carol shared a heartfelt testimony about why the chapter should represent and contribute to the March of Dimes for 2012: "My daughter was 5 months pregnant when she was diagnosed with late stage acute leukemia nearly 3 years ago. The only hope the doctors gave, which was slim, was to terminate the pregnancy in a desperate bid to give my daughter a chance of survival. We lost the baby, and that's still difficult to deal with, as he was healthy, with a name and a face, but my daughter has survived, and finished 2.5 years of chemotherapy in June.
My Katie had already been active with March of Dimes, a team leader and highlighted in the newspaper, before this happened, so when the baby was sacrificed to save her life, M.O.D. was right there with support - emotionally, physically, and financially, to do what they could to ease the trauma of such a horrific event. Needless to say, we are involved in their annual March for Life here in La Plata. They are not directly a cancer-awareness organization--their goal is to save babies' lives--but under my daughter's circumstances, they were wonderfully helpful and sensitive to the situation."
Carol suggested a point of contact from the March of Dimes. The chapter will also await additional suggestions from other members.
The overall mission of the chapter will be determined pending input from other members. The group suggested the following agenda for future meetings: networking, introductions and ice breakers, guest speakers, old and new business and closing. The group will meet monthly on the third Tuesday of each month at 6:30pm. The location will vary based on recommendations. The chapter designated 'cancer awareness' as a platform for community involvement and philanthropy and will rotate their support to various non-profit organizations and charities yearly. It was suggested to start with the March of Dimes.
Chapter members were invited to bring guests and visitors to chapter meetings and to encourage their guests to become active members of NAPW.
Louise Kloiber was designated as the Chapter Secretary and she will record minutes, manage a sign in sheet and update/create meeting agendas. The chapter is also seeking a Marketing Officer to create a quarterly newsletter, market NAPW for new members and maintain and document historical date, and a Fundraising Officer to oversee fundraiser events, planning and coordination.
The next scheduled meeting will be on Tuesday, October 18th at 6:30pm at Old Country Buffet. Tammy closed the meeting by thanking everyone for attending.
For additional information regarding the NAPW Waldorf Local Chapter and/or NAPW please visit http://www.napw.com.
Follow NAPW on Facebook and Twitter.
# # #