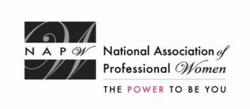 Shannon encouraged members and guests to build strong support systems such as NAPW, schedule time to relax, and let go of perfectionism.
Garden City, NY (PRWEB) October 23, 2012
Members and guests of the NAPW Akron, OH Local Chapter gathered on September 24th for a professional networking meeting at Bravo! Cucina Italiano in Fairlawn. A perfect meeting venue, the restaurant is centrally located at the Summit Mall and is an ideal place to dine and enjoy shopping. Members and guests learned some practical advice to managing stress from the meeting's guest speaker, Shannon Ortiz, Director of Counseling Services at the University of
Mount Union in Alliance, OH and owner of a private group therapy practice.
Chapter President Delphine Allen kicked off the meeting by welcoming the group, briefly speaking about the meeting agenda, and discussing the benefits of napw.com.
"I urge everyone to check out the NAPW website so you can take full advantage of the many excellent opportunities available to members," said Delphine.
The Chapter President awarded NAPW pins to new members and offered NAPW notepads as a welcome gift. Delphine also invited members to join the Akron Chapter Page to communicate with one another, see photos, hear Chapter news, and provide comments.
Maia Beatty, an Akron Local Chapter member warmed up the group with an exercise to help the women remember each other's name. All of the members participated and members and guests all agreed it was a fun, fast-paced, effective way to get to know one another.
The highlight of the networking meeting was the presentation by guest speaker Shannon Ortiz, a Chapter member, a licensed Therapist and Counselor, and an expert in Marriage & Family Therapy and Clinical Counseling. Her private practice, First Steps Counseling of Alliance, LLC, is committed to providing quality confidential services for all of its clients. First Steps Counseling offers a comfortable environment for people to discover real solutions to barriers that are keeping them from living a fulfilling life.
Passionate about helping women manage their roles without burnout and falling into dependence on medications, Shannon was eager to share her expertise with members and guests to help them better deal with everyday stress. Through her informative presentation 'The Superwoman Syndrome,' Shannon outlined for the meeting attendees some very practical steps to follow in managing stress.
"Shannon encouraged members and guests to build strong support systems such as NAPW, schedule time to relax, and let go of perfectionism," said the Chapter President.
Before the conclusion of the Chapter meeting, Delphine reminded everyone that the Akron Chapter meetings are posted on the Chapter Page. They are scheduled as follows: Monday, October 22nd, Monday, November 12th, and Monday, November 26th. All meetings begin at 6:00pm. Future plans for the Chapter include the formation of an Akron Chapter Board and a December luncheon meeting.
Members and guests in attendance at the September networking meeting include Delphine
Allen, Maia Beatty, Andrea Allen, Shannon Ortiz, Yvette Thompson, and Renae Woods Baylor (guests of Delphine Allen), plus:
Adrienne Bailey – Unlimited Creative Designs and President of Zonta Club Cleveland (guest of Maia Beatty)
Brenda Smith – President J&J Accounting
Rose Cinovec (guest of Brenda Smith)
Karen Koch (guest of Brenda Smith)
Melissa Pikul – First Investors (Financial Services Representative)
Melissa Hrusovsky – First Investors (Registered Representative)
Katrina Jackson – Management & Program Analyst, United States Dept. of Veteran Affairs
The National Association of Professional Women (NAPW) is the largest and most recognized network of female professionals. NAPW provides a forum where women can interact, exchange ideas, educate, network, and empower. NAPW Local Chapters allow members to maximize their experience through meetings, networking opportunities, and professional events.
For additional information regarding the NAPW Akron Local Chapter and/or NAPW, please visit http://www.napw.com.
Follow NAPW on Facebook and Twitter.
###