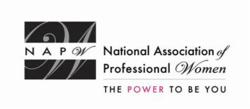 "I think that it would be great to create a blog that host articles that cover health & wellness,work/life balance, career development...
Garden City, NY (PRWEB) July 05, 2012
The ladies of the NAPW Alexandria Local Chapter met on June 19th for a professional networking meeting at Cluge's Restaurant at Mark Center.
Andrea Hancock, Alexandria Local Chapter President opened the meeting at 7:00pm by welcoming all attendees and guests.
The ladies networked and spoke individually about themselves, their careers, and businesses.
Tiffany has an online accessories business; she is a blogger, and her world travels has inspired her business and blog.
Kima Norflet is in the works of starting her own business. She intends to help soloprenuers who need the extra push getting started or finding revenue. She plans on assisting small business owners by educating them on programs that benefit their business, as well as how they can find their niche in government contracting.
Katherine Ferguson is a retired Marine and now serves as a Senior Systems Engineer, working for a small business federal contractor.
Angela Warren is a Realtor with ReMax; she is licensed in Maryland, Washington DC, and Virginia. She became a realtor after she bought her first home and felt strongly that women should own their first home before settling down. She likes to educate people, especially women on home ownership. One day she hopes to open her own yoga studio.
Andrea Hancock is the Owner and Head Organizer of B Dexterous, LLC, a professional organizing company that helps people declutter and set up organizing systems in their homes and lives. She has a background in accounting which appears inconsistent with her aversion to math, until she considered her love of the organizational properties that accounting possesses. She has always wanted to be an entrepreneur and despite the challenges and hard work of beginning a new small business, she now loves it.
Andrea asked about volunteering opportunities being filled. She suggested that Tiffany could possibly qualify for the position of Director of Public Relations. Tiffany told the group that her business is off to a good start and is quite busy, but would like to know what would be involved in this position.
Kim and Katherine were both interested in the position of Vice President. Kim felt Katherine would make a better fit and Katherine was given the position of Vice President. The role will assist the President in finding meeting places, guest speakers, and will fill in for the President in emergency situations where the President is unavailable. The role of Secretary and Director of Public Relations are still available and are open to those who would like to volunteer to fill them.
Andrea mentioned her goals for the Alexandria chapter and the creation a blog.
"I think that it would be great to create a blog that host articles that cover health and wellness, time management, work/life balance, career development, and possible guest blogs from chapter members," said Andrea.
The ladies networked some more before the meeting came to a close. They all look forward to having another meet and greet before the summer is over and before the kick-off meeting in September, which will begin their regularly scheduled Chapter meetings.
The National Association of Professional Women (NAPW) is the largest and most recognized network of female professionals. NAPW provides a forum where women can interact, exchange ideas, educate, network, and empower. NAPW Local Chapters allow members to maximize their experience through meetings, networking opportunities, and professional events.
For additional information regarding the NAPW Alexandria Local Chapter and/or NAPW,please visit http://www.napw.com.
Follow NAPW on Facebook and Twitter.
###